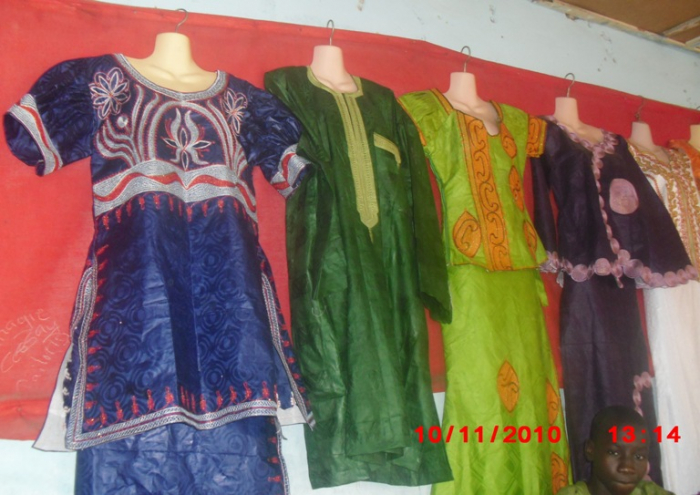 Tobaski, which is a Muslim feast, is very much awaited with enthusiasm. Usually there is so much busyness attached to it. People always make sure they have a ram to take to the family and to fulfill the traditions of Tobaski according to Islam, and also to make some dresses for the family. There is an air of festivity in the markets, schools, workplaces and most importantly the couture centers where dress are made for the Tobaski celebrations. Bring it on brings you an interview with a tailor called Alhagi who has a lot in his hands. This is what he has to say:
Bring it on - Do you think that people are sewing more dresses this time than the last koriteh?
Alhaji – During the Koriteh preparations we sew more men wear than women wear. This is because men are more concerned with their koriteh wear than women and that they need it to pray with it. I would say that women are sewing more this Tobaski than the koriteh. During the Koriteh, the Indian dress was the favorite of most women that is why we have more women dresses that we are sewing this time.
Bring it on – Which design do you think most people would be wearing this Tobaski?
Alhagi – The tube (starched fabric which is available in different colors) is very agreeable with all women and men designs, especially the 'dagit' for women. The 'perlass' also is working for most women and it is a popular demand like the 'tube'; this can be sewn into a 'dagit' too.
Bring it on – What problems do you encounter mostly?
Alhagi – Electricity is one of the problems that we keep facing in this business, particularly this time of the Tobaski preparations. I don't know why those responsible keep doing this but it is disturbing our work. It always brings the other problem which is our clients always disturb us for their dresses. If at all there is regular supply of electricity, all our clients will have their dresses on time to celebrate Tobaski.
The generator is also helpful but not that much. When we buy 100 dalasis petrol, we can be able to have two finished dresses.
Bring it on – Do you have a dress of your own?
Alhagi – This question is very important, I cannot have a dress of my own, I should make a dress for my parents but I cannot because the clients are so demanding. The clients come and beg me to make dresses for them when they know that Tobaski is drawing near. This proves to be a problem because of electricity which is not at all stable. However, I am not accepting any fabric now because I wouldn't be able to finish sewing all.
Bring it on - How would you like to spend your Tobaski?
Alhagi – I would like to go back to the village and enjoy Tobaski with my family like any other normal family on Tobaski. That is if only electricity is stable for me to make all the dresses on time and leave before Tobaski to celebrate with my family.
Bring it on - Thank you for granting us this interview.
Alhagi – The pleasure is mine.
Read Other Articles In Article (Archive)