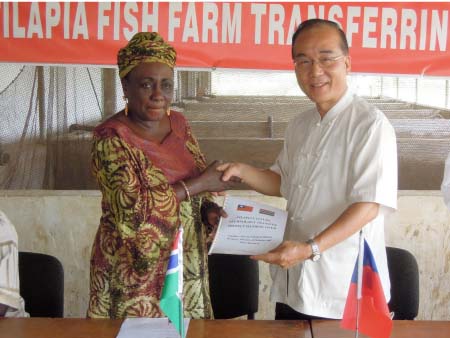 Speaking on the occasion held in CRR, Ambassador Chen said the region has abundant river water resources.
CRR is the most ideal region to develop agriculture. This is also the vision and decision of H.E. President Jammeh to develop the agriculture project.
This project started in Jahally, CRR, in 2007 with the aim of improving food supplement in animal protein through fish as well as helps to increase the families' income in fish-culturing process.
After five years of cultivating test and developing of Tilapia, TTM has completed "Handbook of Agua-Culture", "The Gambia Agua-Culture Feed-Brew Handbook", "The Gambia Tilapia Cultivate Handbook" and had trained some agua-cultured technicians for the taking-over of fish ponds and developing tilapia culture in the future.
In August 2010, the Ministry of Fisheries and Water Resources invited Taiwan Embassy to work together with Food and Agriculture Organization (FAO) to reach the consensus for tripartite cooperation in agua-culture at Sapu.
During 2011-2012, TTM gave training to the working partners from the Department of Fisheries, MoFWR and then since January this year, the Department of Fishery has been able to take over the Jahally Hatch Farm smoothly.
The TTM herewith hands over the project properties to the Ministry of Fisheries and Water Resources, including infrastructures (3 items), machines (23 items) and transportations (7 items). They are 33 items in total.
Ambassador Chen said that after the training, the handover is expected to help the Gambian fishery sector to develop more effectively.
In delivering her remarks, Fatou Sosseh Jallow, representative of the Ministry of Fisheries and Water Resources, expressed appreciation to the Republic of China (Taiwan) for their cooperation and contribution.
She reiterated that agua-culture is necessary to maintain food security in The Gambia.
In today's fish farming, Gambians are becoming largely involved in this aspect of farming.
She said the Gambian leader, President Jammeh, has taken the lead in the practice of aquaculture in his home village of Kanilai.
She urged the Department of Fisheries to disseminate the knowledge to the farmers to attain the highest yields possible.
Read Other Articles In Article (Archive)