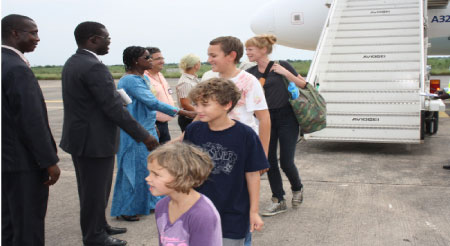 Thomas Cook Scandinavian airline on Wednesday landed at the Banjul International Airport with its first flight of this year's tourist season.
The airbus A321 was received at the airport by the minister of Tourism and Culture, Fatou Mass Jobe-Njie, as well as senior officials from the Gambia Tourism Board.
In her welcome remarks shortly after the landing of the airbus, Fatou Mass Jobe-Njie said Thomas Cook has been coming to The Gambia for 22 years, and this has contributed a lot to the promotion of tourism in this country.
"The first impression is that there have been a lot of changes," she said, adding that this particular flight came with 130 guests, and hopes to bring more guests every week.
Noting that the Gambia today and Gambia yesterday are quite different, minister Jobe-Njie said somebody like the CEO of Thomas Cook who has been coming to this country over the years can attest to that.
In the area of service delivery, the Tourism minister said there is a lot of improvement both at the airport and within the hotel industry.
"We will be working on the hospitality institute which will start next year September. Service is everything and service is what people need, and that is why they are coming," she stated.
Tourism minister Jobe-Njie also revealed that her ministry is working with the Gambia Civil Aviation Authority and all the other units at the airport to see to it that service delivery is put up to expectations.
This year's tourist season, she added, is expected to be good because "we have seen a growth of 51 percent", noting that regional market is the answer to all-year tourism.
Magnus Wiknes, CEO of Thomas Cook, said it was very nice to be back in The Gambia, adding that this time he came with his wife on holidays.
He said the country is doing a lot of improvements compared to the previous years.
In his view, the government of the Gambia through the Ministry of Tourism is doing everything possible to improve the tourism sector, especially the high demand from the Swedish market.
"I am also looking at the quality service delivery from our customers, which is also improving," he said, noting that the season seems to be a positive season in the country.
"I have seen the airport, and I was very impressive about it," Wiknes added.
He revealed that the total capacity of Thomas Cook is more than 20 million guests globally.
"If you look at countries like Sweden, Norway and Denmark it is 1.5 million guests per year and for The Gambia is sometimes like 5000 customers. We have one flight per week from Sweden," Wiknes asserted.
Read Other Articles In Article (Archive)