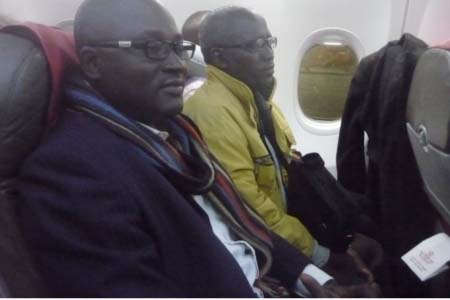 Abdou Rahman Sallah, environment columnist of The Point newspaper, yesterday left Banjul for California, United States of America, to participate in a three-week global training workshop on environmental leadership management at the University of Berkeley.

Mr Sallah, who doubles as the executive director of Biodiversity Action Journalists Gambia (BAJ Gambia), will join other participants from all over the world in California, USA for the intensive leadership training programme.
The Beahrs Environmental Leadership Programme (ELP) of the University of California, Berkeley, is a three-week summer certificate training course in Sustainable Environmental Management.
The programme is offered under the auspices of the College of Natural Resources and will take place at the University of California, Berkeley this year.
The leadership training, organised by Beahrs Environmental Leadership Programme (ELP) of the University of California, would bring together young people from across the globe to learn and share from one another.
Asked about the benefits of the training, Mr Sallah said there is always something to learn as far as environmental protection, conservation and management are concern.
The environment activist assured of his active participation in the programme and to network with international participants.
He said: "The programme is a great opportunity through which environmental activists around the world can interact as they interrogate and deepen their understanding of issues of mutual interest.
"This is a unique programme that creates a platform for environmental reporters and activist to meet, learn and share best practices on how to effectively manage environmental related issues.
"I look forward to engage in an intensive, interactive, and rewarding learning experience this summer that will continue through networking in the Berkeley Beahrs ELP Alumni Network in years to come."
"I want to use this opportunity to thank the staff and management of The Point newspaper and BAJ Gambia for the moral support and the good working relationship over the years. I want to also assure that I will represent my country to the best of my ability."
Read Other Articles In Article (Archive)