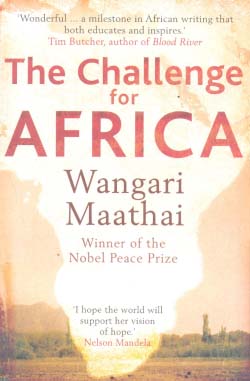 Wangari Maathai, Arrow Books, 2010 and Unbowed:
An autobiography of Prof. Wangari Maathai, 2009.
Tribute to a great African Woman
When she passed away on Monday from cancer at the age of 71, even the Western media for once dedicated unlimited time to honour the memory of this ebullient Kenyan professor of anatomy, Nobel peace Prize winner, 2004, and environmental activist, Wangari Maathai. In her autobiography aptly titled Unbowed, and in her most recent book The Challenge for Africa, Maathai bares her long years of struggle for respect for the environment and empowerment of women. In both books, she also explains her activism which has won her international respect, but little attention at home in Kenya, where she was the bête noire of the political class, who hated her and have imprisoned her many times.
Prof Maathai was the first Kenyan woman to bag a Phd, our Florence Mahoney of sorts, except that her area was anatomy. That was in 1971. Forty years on, she has carved a niche for herself and her beliefs for a just, environmental friendly society. She came to international attention in 1987 when she led a campaign that prevented Kenya's leaders from grabbing and selling a piece of prime forest in the middle of Nairobi. She led the poor peasants who depended on this woodlot to eke out a living, into a drawn out struggle against powerful politicians who wanted to sell the land to developers. In the end, Maathai attracted media attention and she won the day. Soon after, she suffered jail and many forms of harassment. She went on to form the Greenbelt movement, which today is one of the most well known environmental groups in the world. This environmental group has planted millions of trees in Kenya to help replenish the forest cover and hold off desertification.
Prof Maathai's newest book The Challenge for Africa is an optimistic work, in which she provides a unique perspective on the fate of Africa. In it she tackles urgent issues facing Africa such as governance, aid, indebtedness and land management. She also explores some of the untapped potentials of culture and small nations to help Africa out of its many problems.
'I have written this book for all those with an interest in the fate of Africa, from the general reader to advocates, researchers, development specialists and government officials, including heads of state. In its pages, I eludicdate, engage and, perhaps most important, encourage all concerned to grapple with the challenges facing Africa today'.
Indeed, this book will be seen as the testament of Pro Maathai for her selfless service to her country, Africa and the world at large.
Both books available at Timbooktoo, tel 4494345.
Read Other Articles In Article (Archive)