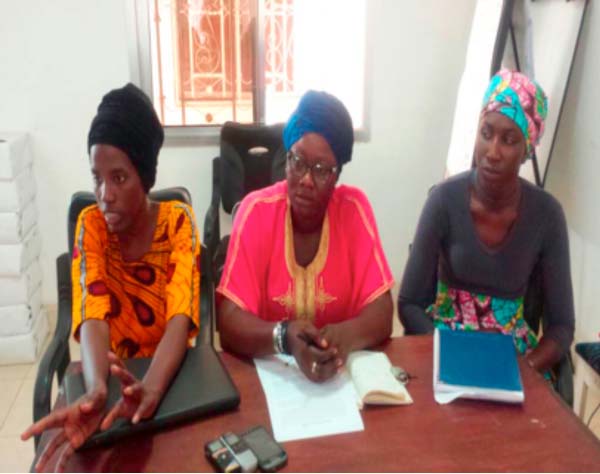 The Girls Agenda (TGA) has recently convened a press briefing to inform the public of the grant they won from Amplify Change to the tune of 10,000 Euros to implement a project on FGM and Child marriage in the West Coast Region.

The briefing was held at the Actionaid headquarters in Kanifing.
Ms Matida Comma, coordinator of TGA, said the Girls Agenda is a young women led-organisation championing the rights of girls and young women.
It is an organisation founded by the young women and are actively engaged with the communities, individuals and policy makers to invest in the sexual and reproductive health and rights of girls, promote education, leadership and life skills for these young women to become strong advocates in ending harmful traditional practices such as child marriage, FGM and other related issues that may hamper their holistic development in the society.
She disclosed that in 2016, the Girls Agenda wrote a project proposal and submitted to Amplify Change and they were glad that it was successful.
She said Amplify Change is a global donor that addresses sexual and reproductive health rights, its gaps, especially in countries where these gaps are not fully blocked.
She disclosed that the project is named Amplify Youth Voices against FGM and Child Marriage.
"We know young people have great potentials in making these issues history."
She also disclosed that the total grant awarded to Girls Agenda to implement these activities within one year period was 10, 000 Euros, which was equivalent to D488, 555.
She explained that the project is focusing on three activities; production and recording of Radio Drama and Sports on the theme because they believe this was a key component in addressing issues such as FGM and Child Marriage. It would be in two local languages, she said.
She added that the second aspect is the training of madrassa school students on Child Marriage and FGM.
"This is a cohort of society that the Girls Agenda are so much passionate about and we will continue engaging them on these issues," she divulged.
The third aspect is the girls' empowerment is a camp on FGM for adolescent girls.
She said over the years they have been engaged in camping adolescent girls to talk about sex, sexuality issues on Sexual Reproductive Health, FGM and Child Marriage.
They believe this was a great opportunity to engage the young people in debates, discussions and in sessions where they are going to be empowered not only on SRH but the life skills needed to be able to break the barriers and challenges they faced when growing up.
She said the project would be implemented in the West Coast Region.
For her part, Oumie Sissoho, said at Girls Agenda they try to reconnect with their past beneficiaries, bringing them to be part of their activities such as in mentorship, vocational training and replacement.
She said they do not expect change to happen overnight on a single training program, but that it has to be continuous.
"We want to be very innovative, bold in the way we use, interact and send our activity results to the media so that we are not only trying to be publicly accountable but we are setting the records high for young people or other youth organizations to also emulate us," she said.
She added that partnership was what they cherish at the Girls Agenda as they work with schools, communities, organisations and the media.
Read Other Articles In Article (Archive)