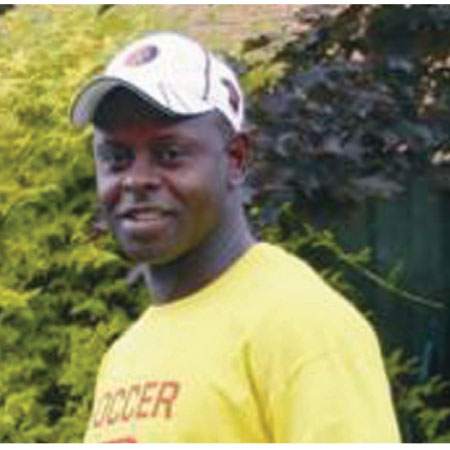 Ebrima Manneh, technical director of Gambia Football Federation (GFF), on Sunday left Banjul for Johannesburg, South Africa, for a 3-day FIFA seminar as well as for the draw of the plenary round of the Nations Cup.
Speaking to reporters at the Serrekunda East Mini Stadium hours before his departure, Manneh said all member associations of FIFA will be represented in Johannesburg, South Africa, for the 3-day seminar.
The seminar will be looking at member associations' (force corer) performance, he added, saying: "As you know we just came into office and it is important that we report on our performance - what are the opportunities we have for grassroots football (schools football), women football and other things and implementing all those things, as well as the challenges we will face and areas of capital expenditure, where there is a need for liquid cash to get us by."
"Often time you think about the distractions," he also said, noting: "Coming into office inheriting D13 million dalasi is not a small amount of money."
In as much as they are getting funding from FIFA, that money will be going towards servicing their debt, he stated, describing such a challenge as some of the distractions.
"Whereby we have to settle from the creditors, lawyers, go to court and things like that make you very unpopular to the sponsors," he observed, adding: "These are areas we are having issues but hopefully when we present our case we will be heard."
Another aspect of the seminar will be the draw for the plenary round for the Nations Cup which should start in earnest from May to June, he pointed out, saying after knowing the draw they would try to have a coach in place and start preparation in earnest.
It is important that the team qualify from the plenary round to the qualifiers, the technical director stated, adding: "We have a better standing as opposed to the other teams within that category.
"I think Liberia and Gambia are top group and most rated teams but football now is different- anybody can surprise you anytime based on their preparation," Manneh also added, saying: "What we need to do is not rely on 'we are a better team than others' but prepare and prepare to make sure Gambians once again restore their confidence in Gambia football."
Manneh said he was really impressed with the KMC's 3rd division regional league commencing "because we are seeing the initial implementation of part of the constitution with the seven regions having their associations and also starting with their leagues".
"We have national leagues - the first and second division male national league, the female first and second division national league, regional league," he said, adding that "currently if you look at the teams we have in the country they are 202 clubs with 202 head coaches, the competition giving them 5,858 players".
When they came into office they were looking at over 2,000 players, he went on, adding, "That tells you the commencement and involvement of this regional league - the impacts it has on football development in the country."
"Even if we had got time to start early it is difficult to implement all what they wanted to do," he said, giving that they started it very late - in particular the league structure – which has made things really tight for them.
Having the first and second division league underway and the regional league kicking off, as well as the women league due to start soon, could place constraints on the facilities, he also stated, questioning whether there are enough facilities.
"With proper plans and structure I think we can accommodate all matches," he noted, saying "the feedback tells you we need more structures to accommodate our football."
The constitution has highlighted some constraints to the involvement of lot of teams under the GFF, he further said, but that it is important "we are getting a lot of players involved".
"It is also important on how we accommodate them on a proper footballing pitch where they can play their matches and also be recognised and watched by a lot of fans," he noted.
Most of the players have not played on a well organised football field like the East Mini Stadium where Toubabo De Wellingara were taking on Marimo FC in the opening game of the KMC third division regional league, he noted, adding that they have not also been watched by spectators as it is during the games.
This will encourage them to improve their playing ability, as well as coaches and all other people involved, to have an idea about the game and hopefully from their pick up, he added.
For the other four administrative regions, they want them to be on the same page with West Coast Region and KMC who have started the third division regional league first by helping to build the human resources for coaches and referees before they commence their leagues, he said, adding that currently there is a referee course going on in Farafenni, North Bank Region.
Next week the referees are going to Basse, URR, to build on the basics of referees, he also said, adding that from there they will allow them to start their regional leagues. 
Read Other Articles In Article (Archive)