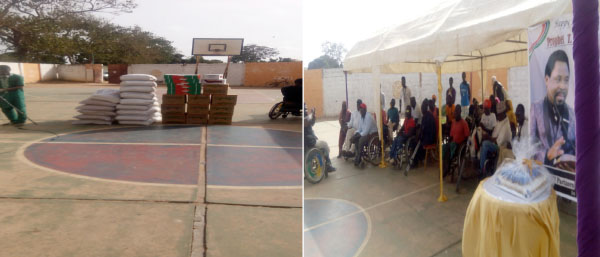 Emmanuel TV partners and viewers in The Gambia on Tuesday donated food items worth D75,000 to disabled people on wheelchairs at a ceremony held at Serrekunda West Mini Stadium.
The donated items included 10 bags of 50kg rice, 5 bags of 50kg sugar, 10 cartons of Hayat vegetable oil - each contains 6 gallons, 5 cartons of tomato tins and cartons of sardine.  It was distributed among more than 30 disables.
The donation was part of the 53rd birthday celebration of Temitope Balogun Joshua commonly known as TB Joshua, a Nigerian televangelist and founder of the Synagogues Church of all Nations (SCON) Christian television network.  He was born 12 June 1963 in Nigeria.
Presenting the items, Pastor Benjamin Jayeola, one of the Emmanuel TV partners in The Gambia and also a member of the intercessor prayer unit in The Gambia, said they chose the day based on the instruction of TB Joshua who said he will love all Emmanuel TV partners and viewers to celebrate his birthday with the less privileged and needy people.
He noted that since Muslims are observing the Ramadan, it is expected that the donated items will be put into good use to ease the Ramadan expenditures of the beneficiaries. 
Speaking on behalf of the beneficiaries, Ebrima Colley, administrative secretary of the disabled people on wheelchair, expressed delight with the donation saying it is timely.
Sister Christine Hawa Williams, also an Emmanuel TV partner, expressed similar sentiment, adding that their prophet tasked them to spend more on others and less on themselves.
She called on people to watch Emmanuel TV as it teaches the individual how to follow God and give them individual faith to worship.
Read Other Articles In Article (Archive)