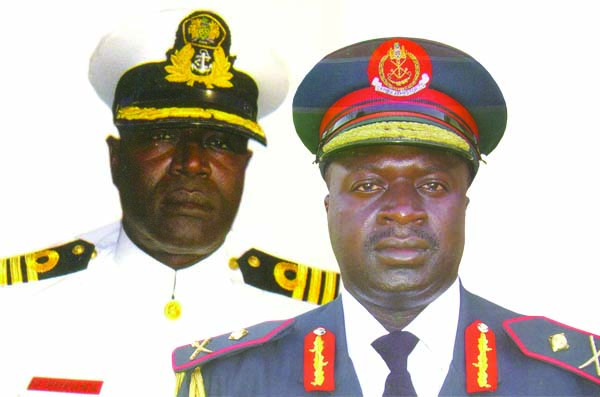 Lt Gen Lang Tombong Tamba, former chief of defence staff and five others have filed an ex parte motion before the Special Criminal Court in Banjul.
The ex parte motion was filed on behalf of all the applicants by lawyer LK Mboge on Monday, and is seeking, among others, to prohibit violation of the fundamental rights of the applicants. 
The other applicants are former chief of naval staff Rear Admiral Sajor Fofana, Ibrahim Bun Sanneh, former NDEA Executive Director, Karamo Bojang, Ex-NDEA Deputy Executive Director, Ousman Sanneh, Ex-NDEA Operations Commander and Seedy Bojang, former NDEA accountant.
They were all present in court.
According to counsel Mboge, the ex parte motion was premised under section 133 of the 1997 constitution and is an order granting leave to the applicants to file and hear this application for prohibition of the respondents from violating the fundamental rights of the applicants, and any order of this court.
The ex parte motion followed the putting of shackles on the applicants' legs, thereby restricting their free movement, which, according to counsel Mboge, is a violation of the applicants' fundamental human rights.
Lawyer LK Mboge in moving the motion stated that the motion was filed on 23rd November 2010 and is supported by a five-paragraph affidavit sworn to by one Mariama Bah, legal assistant at Mari-Bantang Chambers.
"My lord, I relied on all the paragraphs contain therein, especially paragraph two, which I read in court," counsel Mboge submitted.
He submitted further that the court has the power to grant the motion in the interest of justice and the enforcement of the fundamental rights of the applicants.
Mboge made reference to the 1997 constitution, which according to him gave the court the power to enforce the said application, and urged the court to grant leave to the application.
Justice Ikpala, however, observed that some issues are pending in the said ex parte motion.
Counsel Mboge then told the court that he will file in additional affidavit in support of the motion.
The case was at that juncture adjourned till 6th December 2010 for counsel Mboge to file in an additional affidavit in support of the motion.
Read Other Articles In Article (Archive)