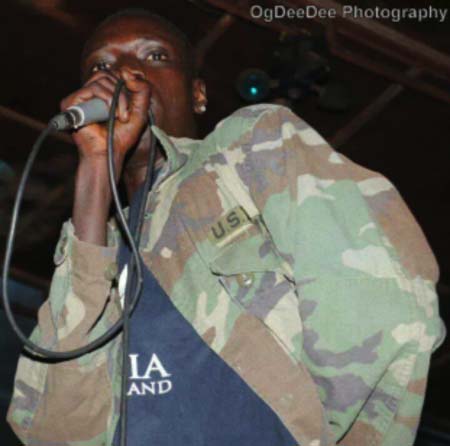 Tamsir Samba alias Tam 50, a hip-hop and rap mbalax artiste is at the finishing point to release a new album, Tam 50.
He started doing music in 2007 and later joined a music group in Bakoteh called B.K. City.
Tam 50 was inspired by the renowned American hip-hop stars, 50 cent and Eminem, who made him to have more love for music.
Tam released his first single entitled: "Chono" life" featuring T-Smallz Suso, which was produced by Lesley in 2009.
In the same year, he also released his debut 14-tracks mix-tape entitled: "Chono life". After four years of research and composing songs in 2013, Tam 50 released his debut album entitled "The Future".
The 14 tracks was launched on 2 February 2013, and was produced by various studios in The Gambia.
Tam did a lot of compilations and combinations with local and international artistes, as he also produced a couple of music videos that are mostly played on G.R.T.S and other social websites around the country and beyond.
Tam 50 is currently on studies at Stratford College of Management (Gambia) and also working with Ndonngol Entertainment on contract agreement since last year, as Ndonngol Entertainment in collaboration with Ou2 Movement will be hosting the preparation and promotion of his new album early next year January 23.
"Much love always to all my fellow Gambian artistes, D.J's, promoters, producers, fans, journalists and the main host of the album rumors, Ndonngol Entertainment and my organizing team Ou2 movement," the young musician said.
The general manager of Ndonngol Entertainment, Ousainou Mboob, who was a former rapper with the ABC Boys in the early 90s also explained about their plans for promotion of Tam's new album entitled "Rumors".
''Tam 50 is an artiste that we signed a contract to produce, promote and manage his music not only in The Gambia, but also beyond The Gambia. We are working with him full-time, as not only our artiste but a blood brother to us."
"As from now on, we already completed 80 per cent of his record production, and soon the songs will be out for promotion, including professional music videos etc."
"Tam 50 is our frontline artiste for our music label, as we are already set for a giant promotion towards developing his music career not only producing an album for him,'' continued Ousainou Mboob.
Read Other Articles In Article (Archive)