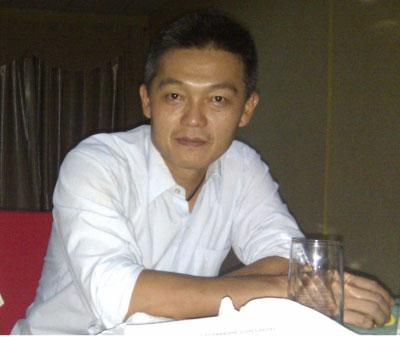 After a six-year mission in The Gambia, which makes him the longest serving staff member of the Taiwanese embassy, Vincent Wang, on 17 January 2013 bade farewell to his media friends.
At a farewell lunch organised in honour of Mr Wang at Butcher's Shop in Fajara, Ambassador Samuel Chen said: "I know you have built a good relationship with Vincent over the years and since he is about to leave this country, I decided to bring you together in order to say goodbye."
The director general of GRTS, Lamin Manga, assured Vincent's predecessor of the continued support and collaboration of the state broadcaster.
Malick Jones, deputy director general of GRTS, said he has known Vincent for many years and they have built a very good friendship.
We are going to miss you a lot and I must say that you are a true hospitality of the Taiwanese people," said Jones, who has visited Taiwan on two occasions.
He hailed the outgoing ROC embassy senior secretary for his efforts in strengthening the bilateral relationship between The Gambia and Taiwan.
The Point's co-publisher and Managing Director Pap Saine applauded Vincent Wang for his good working relationship with the media fraternity.
Mr Saine, who has also visited Taiwan, hailed Vincent for being a strong believer of press freedom while assuring his predecessor of the media's continued support to his office.
We must acknowledge your country's support to The Gambia's development, especially in the areas of health, education, agriculture and infrastructure," he said.
Mr Saine used the opportunity to appeal to Ambassador Chen for support to the media in a form of equipment and staff training.
Momodou Saidy, Managing Director of Daily Observer, who has been to Taiwan on many occasions with the President while working at State House, also reassured the ROC embassy of his company's readiness to maintain cordial working relationship with them.
Meanwhile, Mr Wang will leave Banjul today for Taipei and has since been replaced by Mr Wafy Luo.
Read Other Articles In Article (Archive)