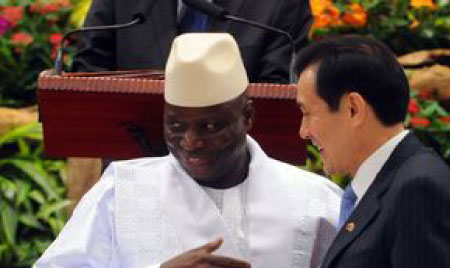 Taiwan will give The Gambia, its West African diplomatic ally, three more patrol boats to help strengthen its naval defences, with the delivery set to take place early next year, the Ministry of Foreign Affairs said Thursday.
The decision to donate the craft to The Gambia came after one of four 50-tonne boats previously given by Taiwan suffered serious damage. Hsu Mien-sheng, director-general of the ministry's Department of African Affairs, told a news briefing.
According to reports, monitored by this paper from CNA, the armed small patrol boats are being refitted by the Ministry of National Defence before being shipped to The Gambia.
In related news, Gambian President Yahya J.J. Jammeh, who is making a June 26-30 state visit to Taiwan, will attend the graduation ceremony of Taiwan's military academies slated for Friday in Kaohsiung, southern Taiwan, Hsu said.
President Ma Ying-jeou is set to present a model of the donated patrol boats to Jammeh at the ceremony, which will include three graduates from The Gambia, Hsu added.
Jammeh, who is leading a delegation of 76 officials and ministers, met earlier with Ma "to exchange views on international affairs and other issues of mutual concern," the foreign ministry said.
"The Gambia is an important ally of ours in West Africa that has, over the years, spared no effort at supporting Taiwan's participation in the United Nations, including the World Health Organization and other UN-related agencies.
President Jammeh last visited Taiwan in April 2009, with this trip marking his ninth visit, demonstrating that the close partnership and brotherly bonds between the two countries has always remained strong.
Read Other Articles In Article (Archive)