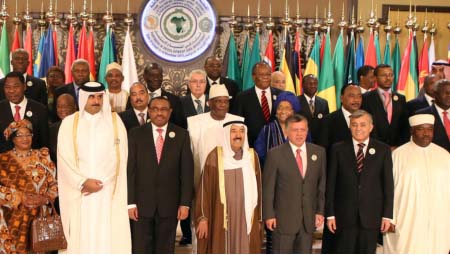 Kuwait's Emir Sheikh Sabah al-Ahmad al-Sabah opened the third Africa-Arab summit Tuesday by pledging $1 billion (740 million euros) in low-interest loans and the same amount in investments to African states.
Arab and African leaders gathered for the two-day summit in Kuwait City to review steps to promote economic ties between the Arab world, which includes wealthy Gulf states, and investment-thirsty Africa.
"I ordered officials of the Kuwait Fund for Arab Economic Development to provide soft loans worth $1 billion to Africa over the next five years," Sheikh Sabah announced.
Sheikh Sabah also said Kuwait, in cooperation with the World Bank and other international institutions, has decided "to provide investments and investment guarantees worth $1 billion" over the next years, and this will focus on infrastructure projects.
The Kuwait Fund is the oil-rich Gulf state's investment and aid arm in African, Asian and Arab countries. So far it has provided billions of dollars in low-interest loans for development and infrastructure projects.
Thirty-four heads of state, seven vice presidents and three heads of government are attending the third Africa-Arab summit, which brings together 71 countries and organizations.
The meeting is the first of its kind since 2010, when leaders met in Libya prior to the Arab Spring uprisings that toppled long-term dictatorships in the region.
In his opening speech, Sheikh Sabah called for a focus on projects to achieve "food security" for the two regions.
But he also stressed that "it is no longer acceptable ... that our countries continue to provide aid and that the other side does not participate."
The leaders are expected to approve measures and resolutions adopted by foreign ministers on Sunday aimed at boosting economic cooperation between the two regions.
Kuwait's Foreign Minister Sheikh Sabah Khaled al-Sabah said the "Partners in Development and Investment" summit will discuss a proposal by the Africa-Arab Economic Forum to create an Arab-African common market for a combined population of around 1.2 billion people.
The leaders will also look at how to accelerate investment flows into Africa, which is facing an acute investment gap.
According to the World Bank, Africa needs around $30 billion a year to develop its energy sector.
The International Monetary Fund says African economic growth was a solid 5.0 percent in 2012 despite the world economic crisis. Growth is forecast to ease slightly at 4.8 percent this year and rebound to 5.1 percent in 2014.
In addition, Africa has 12 percent of global oil reserves and 42 percent of its gold deposits. The discovery of large quantities of natural gas off Africa's east coasts has added to the continent's economic potential.
On the other hand, the energy-rich Gulf Cooperation Council states have accumulated surpluses of $2.0 trillion thanks to persistently high oil prices. A majority of the assets are invested in the United States and Europe.
The summit held in Libya three years ago adopted an Africa-Arab Partnership Strategy and a 2011-2016 Joint Action Plan to increase investment, trade and other economic projects.
But implementation has been slow, in part because of the turmoil unleashed by the 2011 Arab Spring, which saw the leaders of Tunisia, Libya, Egypt and Yemen toppled by mass protests and the outbreak of civil war in Syria.
The leaders are expected to approve a resolution to set up an Africa-Arab Joint Financial Mechanism to provide the means for implementing projects and encouraging investment.
They will also discuss establishing an Africa-Arab Technical and Coordination Committee on Migration to help protect migrant workers.
Source: AFP
Read Other Articles In Article (Archive)