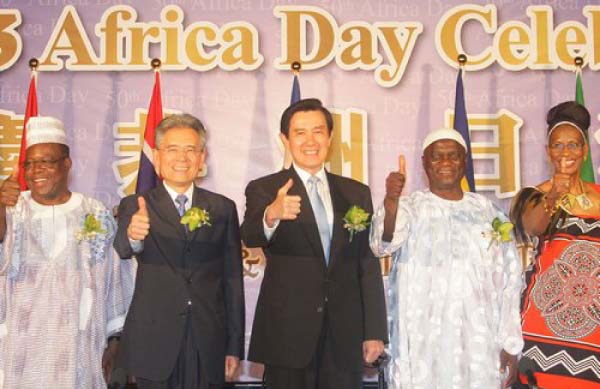 President Ma Ying-jeou and African envoys touted the ties between Taiwan and Africa on Saturday during celebrations of Africa Day, which is observed annually on May 25 to mark the independence of various African countries since 1963.
Speaking on the occasion, Alhagie Ebrima Jarjou, Gambian Ambassador to Taiwan, who is also the chairman of the African Diplomatic Corps accredited to the Republic of China said: "Taiwan is one country that has been paying a lot of attention to Africa's development."
Ambassador Jarjou said that over the years, Taiwan has developed solid relations with African countries through a wide range of developmental programs that focus on the fields of healthcare, agriculture, vocational training and higher education.
He was speaking at a cocktail reception held at Taipei's Huashan 1914 Creative Park to mark the day.
For his part, President Ma said recognizing the friendship between Taiwan and Africa, Taiwan will continue to assist African countries in their development since Taiwan has been through the developing stage in the past and has much to offer to the world.
Taiwan wants to be a "sincere and effective developmental partner of Africa," Ma said.
Meanwhile, at the same venue, a festival was held to celebrate Africa Day. The festival featured African film, music and lifestyle.
According to reports monitored from CNA, the Ministry of Foreign Affairs of Taiwan organized the event and movies from 12 African countries including The Gambia, Nigeria, South Africa and Tanzania which were screened during the festival.
A series of free outdoor activities were also held at the weekend at Huashan 1914 Creative Park, including a fair set up by the Africa Taiwan Economic Forum to showcase African culture at 30 booths.
Visitors to the events had the chance to try African braiding, body painting and drumming.
The ministry has been holding annual events to raise public awareness of Africa and its diverse cultures.
Read Other Articles In Article (Archive)