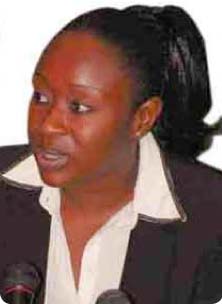 The tabling of the proposed controversial amendments to the Elections Act and the 1997 Constitution of The Gambia at the National Assembly has now been postponed until 30 June 2015, The Point newspaper can announce.
The amendments were supposed to be tabled by the Attorney General and minister of Justice, Mama Fatima Singhateh, yesterday, Tuesday, for approval or rejection by the National Assembly members.
The Point got to know that some of the clauses of the amendments are being reconsidered.
Among other things, the proposed amendment to the Elections Act – the principal law that governs the conduct of elections – provides for a D1 million registration fee for a political party, increasing it from not more than D5,000. 
It also obliges presidential candidates to pay D1 million for their candidature to be endorsed by the Independent Electoral Commission (IEC), in each presidential election.  Previously, it was D10,000. 
Parliamentary candidates have to also pay D100,000 instead of D5,000 for participation in any election; mayoral candidates have to also deposit D50,000 instead of D2,500; and councillors D10,000 instead of D1,500.
Similarly, the Gambia government has proposed an amendment to Section 18 (sub-section 2) of the constitution to make provision for application of the death penalty, in circumstances other than where there is actual violence or administration of toxic substances resulting in death.
The two amendments have sparked widespread discussions by concerned Gambians both in and out of the country, and both online and off-line.
The opposition parties were particularly swift in their condemnation of the proposed changes to the law.
One of the parties, the People's Democratic Organisation for Independence and Socialism (PDOIS), said the amendments to the Elections Act include key clauses which are "unreasonable and unjustifiable". 
The party said in a statement that the amendment should be withdrawn.
The leader of the United Democratic Party, Lawyer Ousainou Darboe, said the two proposed amendments are "preposterous and ridiculous". 
He said the amendment to the Elections Act is an "attempt to create a single party state".
The UDP secretary general mauled the possibility of challenging the amendment to stop it from becoming law.
The leader of the National Reconciliation Party said the proposed amendments to the Elections Act "will kill" multi-party democracy in The Gambia by making it almost impossible for opposition parties to contest elections. 
Hamat Bah said the amendment "should be rejected completely".
Read Other Articles In Article (Archive)