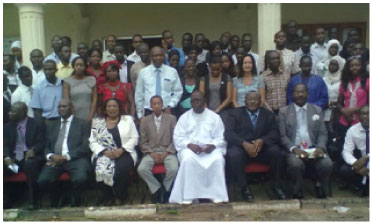 The World Intellectual Property Organization (WIPO), in collaboration with the Ministry of Justice and the University of The Gambia (UTG), yesterday began a two-day national symposium on Intellectual Property (IP) education, training and research.
Held at the UTG Law faculty campus in Kanifing, the training brought together students and academia to discuss the importance of IP and the best practices on teaching, training, and research.
Speaking on the occasion, Musa Sowe, Dean of Education at the UTG, said IP is a branch of laws that protects and provides mechanisms to reward innovation and creativity.
The IP systems enables and facilitates the process of creating useful knowledge, protecting it and facilitating its dissemination, use commercial exploitation and improvement.
IP systems are desirable, he said, adding that inventors will have sufficient incentives to invent when they know that their work is protected and this has been demonstrated by research.
"It is critically important for us and our country to be better prepared to face the challenges and negotiation IP issues including our Gambia values," said Mr Sowe.
"If ideas are not protected, it will encourage piracy and counterfeiting, which have been shown has deterrent to innovation and research by extent to our general progress," he said.
"We should not leave only legislations but call for establishment of robust mechanism which is becoming more challenging with the advancement of information technology."
Martha Chikowore, training officer of WIPO, said WIPO is mandated to promote the protection of intellectual property across the globe through cooperation with governments, international and regional organizations as well as partners with the private sector.
"Developing countries are confronted with overwhelming economic and technological challenges," she said.
According to her, the IP is often accused of championing the trade interests of developed countries to the detriment of the poorer countries.
However, she adduced the reality is rather paradoxical; developing countries might be net importers of technologies but are also net exporters of raw material, among others.
She therefore called on the need to provide mechanisms to stop bio-piracy thus encourage science and technology to grow and favour local R&D and provide proper protection to stop such misappropriation.
"There is also a need to create a favorable environment for artistic talents and literary to develop and benefit the society through such means as promoting the use of new technologies, providing incentives and effecting enforcement to combat piracy and counterfeiting," she said.
For his part, Christopher Kiige of Africa Regional Intellectual Property Organization (ARIPO) asserted that it is common knowledge these days that one cannot separate intellectual property from trade because they go hand in hand.
"It's therefore imperative that policymakers, the civil society and all stakeholders in Africa are made to be aware of the benefits of intellectual property, which includes among others patent information, encouragement of innovation, and foreign investment," said Mr Kiige.
According to him, IP has influenced the whole world, such that no individual, organization, or country can afford to ignore it.
Cherno Marenah, acting registrar at the AG Chambers, in his remarks, said: "The progress of society is no longer measured by the amount of natural resources but rather the knowledge of it's citizens."
Read Other Articles In Article (Archive)