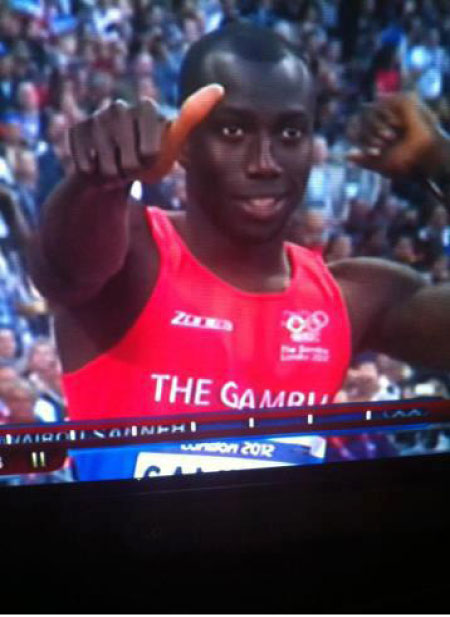 Gambia's sensational sprinter Suwaibou Sanneh on Tuesday returned home after a record-breaking performance at this year's Olympic Games in London.
After his arrival at the Banjul International Airport, he expressed his excitement about his progress, saying he would work to gain more techniques to develop himself so that he could reach the finals in the next Olympics Games.
The promising young athlete made a heroic and best performance so far for The Gambia after booking a spot in the semi-finals.
He set a personal best and national record time in 10.18 seconds, during the semi-finals of the Olympic Games, on August 5, 2012 in London.
He added that his performance in the London Olympics was very good, especially having made another record by breaking his personal best, describing it as a good achievement and his experience in the London as very good.
The most exciting moment for him in terms of track and field events in the Games was when he qualified for the semifinal.
It is very difficult breaking one's record of track and field events every time but he had been doing so, which is a mark of improvement for him. 
He noted that running alongside international iconic runners like Usain Bolt was a challenge for him.
He feels so happy reaching the semis as well as coming back home, Suwaibou said, while thanking Gambians for their support and prayers.
Reacting to news of fellow colleague Saruba Colley's "absconding", Suwaibou said he could not say Saruba had absconded because she still has a valid visa until November.
"There is no way I can say that she has absconded," he added.
Suwaibou, who put up a remarkable performance in the London Olympic Games 2012, received a warm welcome from Gambian fans upon his arrival together with some members of the Gambian delegation.
Read Other Articles In Article (Archive)