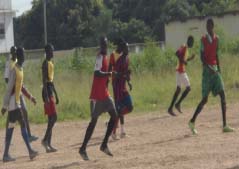 Ron Mango the double champions in last year's Bakau Naweetan faces the prospect of entering the curtain raiser final with a huge task of re-claiming the top honour when they rub shoulders with the youthful Zuwa FC side at the Bakau super cup finals set for Sunday.
The two sides will enter the weekend battle on the back of impressive good runs of fine form having made an outstanding impact last term. Ron Mango who rose to a heroic success, after they conquered the Bakau Nawetan for the past three years, following their double winning campaigns, might be considered the overwhelming favorites to win the super cup final.
However, if the wonderful team combination of their weekend opponents is anything to go by, the final is sure to produce an exciting moment of a curtain-raiser.
Zuwa FC who made their Naweetan debut last year advanced to the final of the knockout competition, and their performance was widely regarded by many football pundits as one of the best.
They are blessed with lots of brilliant youngsters, with some huge talents that always give other participating teams a hard nut to crack, and if their pre-season preparation is to be considered, the side could cause a serious threat to Ron Mango's title ambitions this campaign.
But hardly anyone can predict the outcome of the result between two of Bakau's most outstanding teams of recent.
The super cup final which is expected to be played at the Real De Banjul football grounds at the Independence Stadium is expected to pave the way for the summer championship proper, due to begin on Tuesday after the draw was held on Friday evening.
The following are groupings divided into four groups of six teams:
Group A: Ron Mango, Zibra, Tos Active Fc, Lama Lama FC, Seaview FC and the winner between Vietneam Border and Backa Yard who were in action at the time of going to press yesterday, Group B comprises Mamakoto, 5 Junction, Bantankoto, Julangel, Junior Arms and Linguere. Froup C includes Vidar, Bremen, Rakel FC, Milan, Zuwa FC and the winner between Banda Bi and Farokono which was also in action at the time of filing this report yesterday.
The last group comprises Luniburg, Scantours, Senior Lions, Saul Samba, Magadan and Ganda FC.
Read Other Articles In Article (Archive)