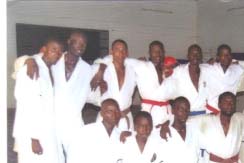 Eighteen students have taken part in a Black Belt Examination organised by the SKI-Gambia Branch of Shotokan Karate-Do International Association at the Bakau Community Centre.
The one-day examination, held on 5 November 2010, is the second since 24 March 2004 and has the youngest participants in the exam ever - Ndela Manjang, a female, and a boy called Ablie Seck.
The exam was purely technical and the awarding ceremony will be done soon for all Gambia to see their fellow brothers and sisters receiving one of their most important life-time achievements that they have been pursuing for ages.
The exam, attended by the Senior Master of the Gambia Shotokan Karate-Do International Association, was facilitated by senior instructors of the association.
Students were tested on Kata (Forms), Kumite (Sparring), mix techniques, khion and special techniques.
All of these require certain marks to score that accumulate to one's total scores which will enable one to be certified as a true black belt holder.
The grading is a promotional test that assesses students that have been intensively pursuing their Black Belts. These Regulations also provide the procedures of carrying out all levels of tests in accordance with the SKIAF (Shotokan Karate-Do International Federation) standards in Japan, which is aimed at spreading the rationalized SKI techniques and standardizing its practice in The Gambia.
This is also in line with The Gambia's needs if people want to rub their shoulders with the outside world in all aspects of martial arts, particularly karate.
The aim of holding periodical Black Belts exam, according to the association's technical director, Muhammed Danso, was to avoid mass exodus of students and to keep the high spirit of sportsmanship in the young karate practitioners that have spent years of training.
Read Other Articles In Article (Archive)