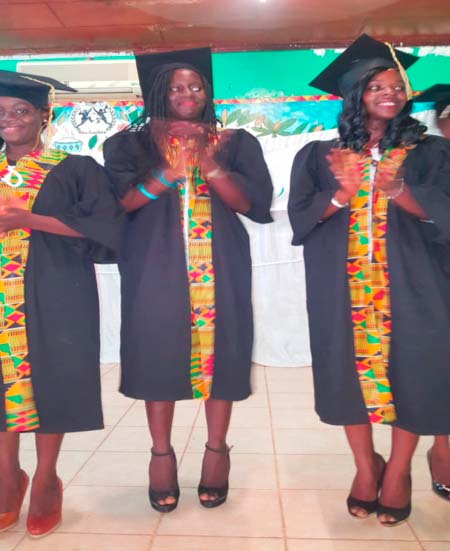 (Wednesday July 20, 2016 Issue)
Star Preparatory Junior Secondary School on Friday graduated its first batch of students.

The graduation ceremony was held at the President Award Scheme in Bakau.
Speaking at the ceremony the principal of the school, George Kaleku, said that after some years of running the primary school, the secondary school was started to solve the constraints of parents in the community in finding reputable secondary schools for their children after completing grade six.
"We decided to start the Upper Basic school and since then the school has continued to go from strength to strength and this is our second batch of grade nine, and the result we got last year in the GABECE was very remarkable," he said.
"This is a clear evidence to show that we are dedicated to team work - from parents to teachers and students - and to give not only academic education to our students, but also good morals that will make them fit into any society."
He said the challenge the school faces is with students, as well as parents, who don't turn out for PTA meeting. "This is proving difficult for the school in addition to the fact that some students come to school without text books and others never do their assignments," he added.
"We expect parents to do more; let us all work as a team to make our children better people in the near future," he appealed to parents, saying: "Once in a while, come to the school and discuss with the administration and teachers about the progress of your children."
Speaking at the graduation, the guest speaker on the occasion, Mr Donald Kaye, who spoke keenly on the topic discipline and told the graduands that they should show sign of discipline at all times.
"We are living in a world that, if you are not well disciplined, you can suffer a lot in the society you find yourself," Mr Kaye said. "Discipline can make you achieve lots of things in your life but the most important of it all is self-discipline, which is very vital, and if you are not disciplined enough it will always be very hard for you to achieve knowledge because the two go together, discipline and knowledge are the basic requirements of our everyday lives."
Mr Kaye, further said that students should use discipline as their strongest weapon in their everyday lives as it will pay off in so many ways and it can guide and direct students to the right path in terms of achievement and success in life.
"Discipline gives you self-control and it also teaches you to be obedient," he advised the graduands: "Have respect for everyone you happen to meet throughout your entire life."
Read Other Articles In Article (Archive)