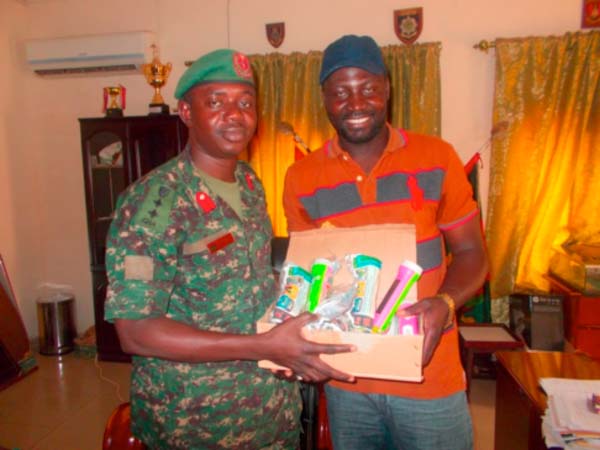 The managing director of Star GSM Communication, Lamin Kabba, recently presented solar torchlights to the Mobile Traffic Unit in Kanifing, One Infantry Battalion at Yundum Barracks and the Police Intervention Unit in Kanifing.

Speaking at the various presentation ceremonies, Kabba acknowledged to the security heads the importance of their security work in the country.
He added that it is because of the security forces in the country; that is why business communities are doing their normal business.
"I am giving out these items in order to enhance your work easily, because these solar torchlights do not need for someone to buy battery for it, and it can last for long when charged fully."
Kabba assured the security heads that his company would continue to assist the security forces in the country, considering their duty to maintain peace and stability in the country.
Kabba commended all the security forces in the country for putting the interest of the nation, before personal or political interest during the past political impasse in the country.
Speaking at the handing-over ceremony, Superintendent Mam Manyick Saine of PIU, described the Star GSM boss as a true patriot whose contribution is well-known within all the security apparatus in the country.
According to Superintendent Saine, the items presented would improve their work, adding that this was what they are looking for because the government could not do it all and need partners like Star GSM Communication.
Superintendent Saine used the occasion to urge the business community in the country to emulate Kabba's kind gesture to the security forces and other sectors in the country.
Commissioner of Mobile Traffic Unit, Fadiya Jarjue, said this was not the first time he was presenting some items to the Gambia Police Force (GPF).
He added that Star GSM Communication is a household name within the GPF and the security forces in general.
Commanding Officer 1 Infantry Battalion, Yundum Barracks, Colonel Sait Njie, assured the Star GSM boss that the items would be used for the intended purpose.
Njie thanked Lamin Kabba for realising the role security forces in the country are playing, which motivated him to present these valuable items to his men and women.
Read Other Articles In Article (Archive)