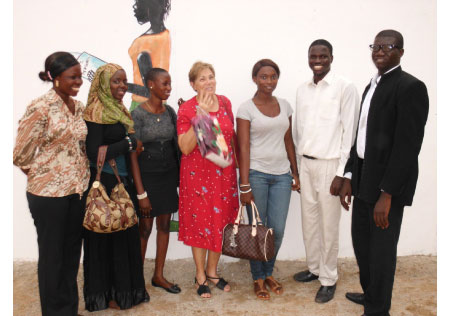 A group called Star Fish International on Monday bade farewell to Cynthia Gregg, outgoing deputy US ambassador to The Gambia.
The group honoured Gregg in recognition of her immense contribution and support to them during her three-year stay in the country.
Star Fish International is a service-based organization and girl's empowerment programme, with the goal and mandate of empowering girls and boys to start their own businesses or render services to their communities by providing them with scholarship and educational opportunities.
At a brief ceremony held at the Star Fish International grounds in Lamin, co-director of the education centre, said the house of the library is being used by the community and its environs for study and research.
Mam Yassin Sarr, a Gambian who used to live in the US and has returned home with her husband David, was full of praises for the US diplomat.
She described her as a "true mentor" who has helped in building the library for students to read and conduct research.
Students from various schools, who used to visit the library, gathered at the library ground singing farewell songs and poems, as well as present gifts to the outgoing ambassador.
They provided study class for students as part of an enrichment programme, education and bringing volunteers from America to help with classes that they offer to students, she said.
Her organization also provided assistance to 30 students at the library in Math and English language, she said, adding that Cindy met with Star Fish girls in high school and said she was impressed with their work.
According to her, Cindy did help them to connect with organizations that were able to help Star Fish International, which was useful to the students.
"When you first worked in here, you showed your desire to help build the library and less than a year the library has looked better and we have a borehole, Mam Yassin Sarr, who founded Star Fish International along with her husband, said.
"Our collaboration with you (Cindy) has improved the lives of many students who use the library," she said.
Later, the book club formed by Cindy at the American Corner dubbed 'Cindy's Kids' also presented a gift to the deputy outgoing US ambassador as a token of appreciation for her gesture in offering free Saturday classes for young journalists and university students during her stint at the embassy.
In her address to the students at the farewell ceremony, Cindy Gregg said: "I brought with me some very special guests, my own kinds. The last two-and-half year I started here, every Saturday I have been meeting at the American Corner along Kairaba Avenue with about a group of 10-12 students.
"So when we started, some of them had finished high school; now they are finishing college and university where they are studying law, political science, mass communication and journalism, and what we did every Saturday is to read books, discuss and  conduct public speaking, writing skills which has helped many, in critical analysis."
According her, she brought along the 'Cindy's Kids' to school to inspire young people and talk to them about their lives in the university and colleges.
Sait Matty Jaw, one of Cindy's Kid club members, spoke on behalf of the team, thanking and paying tribute to Cindy for helping to transform young Gambians' lives into something meaningful.
Sait, who is a graduate from the University of The Gambia with BSc in Political Science, said the legacy of Cindy will live after her, describing her as "a mother and mentor".
Read Other Articles In Article (Archive)