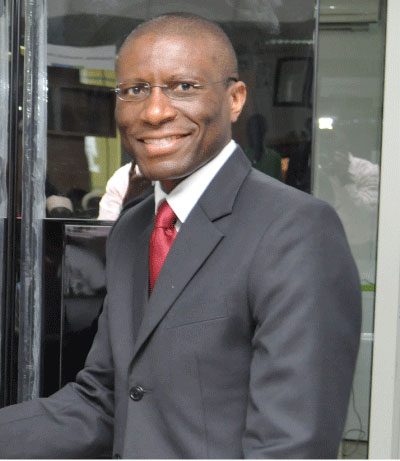 Standard Chartered Bank has registered another impressive financial performance for the year ended 31 December 2011.
While operating income stood at D 414 million, profit before tax was D136 million, with normalized earnings per share of 151bututs.
The bank, which declared its financial accounts score at its 34th Annual General, Meeting, held yesterday at the Kairaba Beach Hotel, has continued to focus on maintaining a conservative but strong balance sheet, which is well capitalised and highly liquid.
Capital adequacy ratio at the end of the year was 23 per cent, whilst non-performing loans ratio at the end of the year was 2 per cent.
Balance sheet footings grew by D283 million to D3.2 billion, representing 10 per cent year on year growth.  "Balance sheet growth was driven by increases in balances due from other banks and our treasury bills portfolio, which grew on the back of growth in customer and other bank deposits," said Richard Ahulu, SCB's finance director.
Shareholders' funds, he said, increased by D23 million to D270m due to current year profit retention, partly offset by dividend paid to shareholders of 67.5m.
On customer deposits, the bank has continued to see "good deposit growth in both of our businesses," Mr Ahulu said. "Deposits by banks and customers increased by D324m, of which increase on customer deposits alone was D273m. We saw increases in all our deposit products."
He added that the bank would remain disciplined in the execution of its strategy to deliver another year of good results.
"We will continue to be disciplined in the execution of our strategy, focused on the fundamentals of banking," Ahulu said, adding that costs and balance sheet will be tightly managed as the bank remains committed to capital and liquidity strength.
In his statement, Momodou B.A. Senghore, chairman of Standard Chartered Bank Gambia, said: "I am pleased to report that in 2011 we maintained our record of consistent performance on profitability in both our Consumer and Wholesale Banking businesses against the backdrop of a harsh global economy and slower growth in the domestic economy.
"We have implemented a consistent strategy and have been disciplined in managing our balance sheet to guarantee the quality of our earnings."
He also gave highlights of the bank's performance, saying income was flat at D414 million, profit before tax was D136 million and normalized earnings per share were 151bututs.
"The board is recommending a final dividend of 25 bututs per share, bringing the total annual dividend to 45 bututs per share," Mr Senghore said.
"We continue to keep shareholder interests at the centre of our thinking when determining our strategy. In the past year we grew our balance sheet and also accumulated sufficient reserves to increase our capital to the required GMD200 million by December 2012 through the issue of bonus shares later in the year. The bonus share will represent additional returns for you the shareholders.
"Your bank remains liquid and well capitalized and we continue to invest in systems and talent for future growth."
Humphrey Mukwereza, CEO/ MD of Standard Chartered Bank Gambia, said that during the year under review, the bank's Technology and Operations successfully implemented the new payment systems that were spearheaded by the Central Bank of The Gambia.
The new payment systems include the Automated Cheque Processing and Automated Clearing House (ACP/ACH) and the Real Time Gross Settlement (RTGS) which went live in December 2011.
"The new payment systems have helped improve service, and reduced settlement risk in the entire Banking system," he said. "We are delighted to report that since implementation, we have seen the volume and value of transactions going through the systems growing."
On staff strength and competence, Mr Mukwereza said: "Our people are our greatest asset. In 2011 we continued our focus to attract the best talent available, retain our best people. train and develop staff to ensure they are placed in a position to excel in their current roles whilst preparing them for future alternative or higher roles."
He also spoke on the bank's corporate social responsibility, saying: "Our ability to create sustained value for our shareholders is intrinsically linked to the health and prosperity of the communities in which  we operate. In the past year we accelerated our investments in the health sector with a special emphasis on eye care and child health.
"Our Seeing is Believing initiative has to date funded over 1000 eye treatments with 400 eye restorations of these undertaken in 2011. Our staff volunteered a total of 169 days to support various social causes and parts of our community with special needs.
"We have also continued to raise awareness on the environment, cumulatively planting sixty-one thousand trees, promoting our e-statements and engaging the young generations on this important issue. In 2012, we will continue to build on the initiatives we have started and will again rely on our staff to give their time to support our various initiatives."
Mr Mukwereza also said that in 2012 they expect to maintain their record of consistent performance and profitability, but they do not envisage an easy year.
Both Chairman Senghore and CEO Mukwereza thanked and commended the bank shareholders, management and staff for their support and hard work over the year. They also applauded their esteemed customers for their loyalty and faithfulness to the bank over the years.
Read Other Articles In Article (Archive)