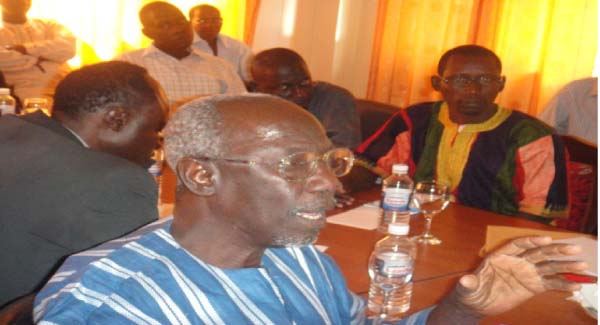 Stakeholders from government agencies and NGOs from the food, health, water and sanitation sectors on 16 January 2012 converged at the Fisheries conference hall to review the draft document on National Shellfish Sanitation Programme for The Gambia.
The idea of draft document came as a result of a training held in Rhode Island University in United States of America attended by three government officials on water quality studies in order to be able to form a National Shellfish Sanitation Programme (NSSP).
Ousman Drammeh, Banafaa project manager stated that three officials from National Environment Agency, Fisheries Department Lab and the Water Quality Laboratory under the Department of Water Resources went to the University of Rhode Island in the United States to understudy what is obtained there in terms of Shellfish Sanitation Programme.
According to him, at Rhode Island these officials saw what has been done there and eventually they started to develop a draft NSSP-Gambia, which was presented in Gambia last June at a fisheries conference.
He added that key government agencies and a cross section of stakeholders were in attendance at the stakeholders review forum to ensure the document is critical looked at to incorporate all relevant points that would ensure the document standardised for the interest of the country.
According to him, water shoreline sanitary survey is the first step in the development of Shellfish Sanitation programme.
This is followed by conducting water quality testing and monitoring to ascertain the water quality of the environment.
"There has to be adequate scientific data and information that shows that there is no health risk associated with eating raw oysters and clams," he said.
Noting that as a project ("Banafaa"), they are trying to be like a catalyst to help and set up the stage for the Gambia government to take charge of the programme when Banafaa project phases out in the future.
Sanitary shore line water survey identifies sources of potential pollution areas through the conduction of water quality studies on faecal and total faecal coliform by the Department of Water Resources supported by the project and it can be done annually followed by a regular water quality studies.
Drammeh revealed that the recently water quality survey studies revealed that The Gambia's waters are clean, although some areas are identified as high count in terms of faecal and total faecal coliform they need to be monitored very closely and if the count continues to rise then they will consider taking management measures including the closure of the areas.
For his part, Professor Michael A. Rice of the University of Rhode Island, who has been the leading figure in guiding the water quality survey, has presented a document on US NSSP in trying to relate to Gambia draft NSSP.
He added that some of the reasons for establishing Gambian National Shellfish Sanitation Programme are that Oysters are filter feeders and pathogens can pick up during filter feeding pathogens, and indicators are increase in warm temperatures.
Professor Rice stated that developing Gambian NSSP based on interagency by signing MoUs among stakeholders to determine who should decide specific tasks required for a G-NSSP perhaps using model ordinance as guide and this will develop standard operating procedures for fulfilling required tasks meeting the standards of operating procedures of Rhode Island and Identify funding mechanism for interagency cooperation.
According to his presentation, there were emphasis laid on the classification of growing areas, routine bacteriological monitoring programme, phytoplankton monitoring programme, annual review of bacteriological data among others that pave the way forward for effective planning and implementation of programmes and activities marry to the sanitary and hygienic of seafood.
According to him, in order to maintain certification of these waters for the harvest of shellfish for direct human consumption, the office of water resources conduct routine bacteriological monitoring and pollution source inventories of the states shellfish growing waters.
Dr Bamba Bajan, Water and Sanitation Hygienic (WASH) project coordinator component of the Banafaa project, stated that National Shellfish Sanitation Programme requires that the country maintains water quality and sanitary shoreline data.
According to him, these data provide the basis for the implementation of the shellfish sanitary control programme.
Dr Banja further stated that oysters are filter feeder organisms and the quality of water in which oysters live is very important; it will go a long way in the determination of approved harvesting sites.
The activities of the BaNafaa WASH Component will go a long way in starting and initiating a national shellfish sanitation programme in The Gambia.
"This  forum is to consult and review the draft NSSP to be able to formalize national shellfish sanitation programme with support from the Banafaa project/ Government of The Gambia," he added.
Read Other Articles In Article (Archive)