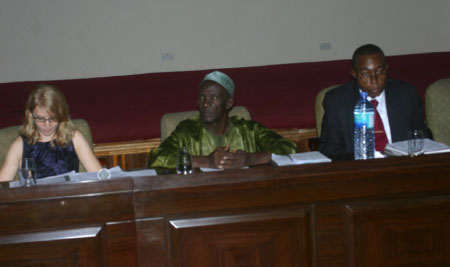 A one-day stakeholders forum on child trafficking in The Gambia was held at the Paradise Suites Hotel on Monday.
The forum was organised by Childfund through its project known as PROTECT, a two-year project led by Childfund The Gambia.
The purpose of PROTECT project is to develop a national child protection system for the prevention of and response to child trafficking in The Gambia.
Speaking at the opening ceremony, Eustace Cassel, National Director of ChildFund The Gambia, said child trafficking is an important stakeholder to the "PROTECT" project in tackling child trafficking in The Gambia.
He said ChildFund is a child protection and child development agency working to help deprived excluded and vulnerable children. 
He added that Childfund The Gambia works in collaboration with its key Government partners like the Ministry of Justice, the Department of Social Welfare and the Gambia Immigration Department.
According to him, the US Department of State funded the PROTECT project to the tune of US$400, 000.
Noting that the State Department's Trafficking in Person Unit, is responsible for producing yearly reports on the extent of governments in different countries and actions to combat trafficking.
Mr Cassel said human trafficking, especially child trafficking, is a reality in the country, and several organizations have produced reports with evidence of this over the past years.
Child trafficking is a hidden crime, he said, adding that it is very hard to estimate the extent of the problem thus praising The Gambia government's efforts in combating the crime, through the enactment of the trafficking in Person's Act 2007, the national action plan on trafficking in persons and the establishment of the National Agency against Trafficking in Person (NAATIP).
For his part, Fafa E. Mbai, chairman, Board of the Directors of NAATIP, said in recent years efforts have been made by The Gambia government through the Ministry of Justice, other government departments and partner institutions to address the problem of human trafficking in The Gambia.
Chairman Mbai added that the government went further to ratify the protocol against human trafficking, and has also signed a number of bilateral and multilateral agreements in the sub-region to collaborate with neighboring countries to fight against the multi-faceted problems of human trafficking.
"Trafficking in persons, especially as it concerns women and children, is a serious crime and its dimensions are internal, regional and international, and therefore requires all hands to be on deck to checkmate this ever-changing menace of modern slavery," Mr Mbai said.
According to Mr Mbai, human trafficking threatens the rule of law, undermines national security, destroys family structure and cultural values, exposes individuals to violence, diseases and abuse of human rights and often results in the tragic end of many of those who pursue it.
Fanta Bai Secka, director of Social Welfare Department, made a PowerPoint presentation on the topic: Social Welfare Interventions in child trafficking cases, while Jana Sillen, project manager, PROTECT project made the closing remarks.
Read Other Articles In Article (Archive)