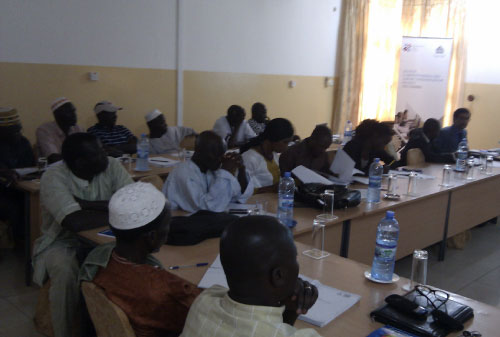 Stakeholders from different sectors in the country recently gathered at NaNA hall in Bakau, to brainstorm and validate a draft report on quality assurance framework on cashew nut and Sesame, so as to meet international standards, among others.
The validation workshop, which was jointly organised by the Ministry of Trade, Industry Regional Integration and Employment (MOTIE) and the International Trade Centre (ITC), was geared towards the implementation of the "Sector Competitiveness and Export Diversification" project, funded by the Enhanced Integration Framework (EIF) Trust Fund.
The objective of the quality assurance framework seeks to ensure that the quality of cashew nuts and Sesame meets the customer and regulatory requirements of both the local and foreign markets.
Bai Ibrahim Jobe, EIF's Coordinator, said the report recognised the importance of food control to ensure food security, public health and export of these two commodities.
"This is towards fulfilling the export diversification drive that the project envisaged to achieve. The important of quality cannot be over-emphasised, because of the fact that it is the leading strategy to indicate or demonstrate safety and quality in food chain for the implementation of a very efficient quality assurance framework," said Mr. Jobe
Khewaj Ramful, ITC's senior adviser, who gave brief background information of the document, said there was a gap analysis conducted in August-September last year where the need was identified and the draft quality assurance framework was prepared and submitted to key stakeholders.
Noting that the purpose of the validation was to get the views and comments of the stakeholders on the report and identified elements for the implementation of the project, he said, it aims to implement actions to improve the quality of cashew nut and Sesame.
According to him, the same quality assurance framework for groundnut was conducted some years ago and several documentations were done to that effect.
"Any supplier(s) that want to export to international market have to ensure that his/her products meet requirements of the market and requirements of the customers, as well as the distributors," he said.
Dr. Bruno Doko, the International Consultant for ITC presented an overview of the situation of the documents on the situation in the country.
Participants were optimistic that the country will produce the best cashew and Sesame that would meet the requirements of international standards, as well as produce the best quality in the sub-region.
Read Other Articles In Article (Archive)