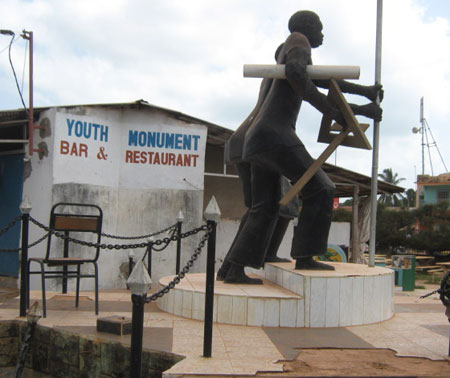 In our today's edition of youth forum, we introduce to you one of the most recreational facilities and famous place for the country's youth.
This is no other place than the Youth Monument. Located at the heart of West Field, the Youth Monument is well-known for entertaining youths.
Out of curiosity, yesterday morning I popped into the monument to have a chat with the management.
Mr. Tito Borosah is the Manager of the Youth Monument, who took me on a tour of the facilities and briefed me about the monument.
According to him, looking at the stature of the site one would conclude that the monument is purposely meant for young people.
To ascertain the validity of his words, I did not hesitate to ask him how they empower youths. 
In response, Tito said, they do offer no-cost-fee to youths who want to stage their programmes there or sometimes at a very cheap prize.
He revealed that they have been doing this for both national youth organisations and community-based organisations. "We always give priority to youth activities," he said.
Tito observed that the monument is located at an open place, and that if they fail to perform their social corporate responsibility they may become a potential target for youths in case of riot. As a result, they are very much conscious in taking care of youths.
He revealed that about thirty young people are currently being employed at the monument, all of whom, he said, are Gambians. He further revealed that other than the entertainment they provide to youths they also offer catering.
"Our food prices are very reasonable because we sell to the local people and not the tourists," he noted.
During festivities over ten thousand youths throng here for entertainment at no cost, says Mr.Tito.
Over the past years, there have been so many negative things being associated with the place, thus giving it a bad image. 
For some youths who spoke to the Youth Forum, just some meters away from the monument, the place is meant for idling, where prostitutes can be found. But for others, this is not the case.
However, whatever the case may be, people have different perceptions about the Youth Monument, be it positive or negative.
Read Other Articles In Article (Archive)