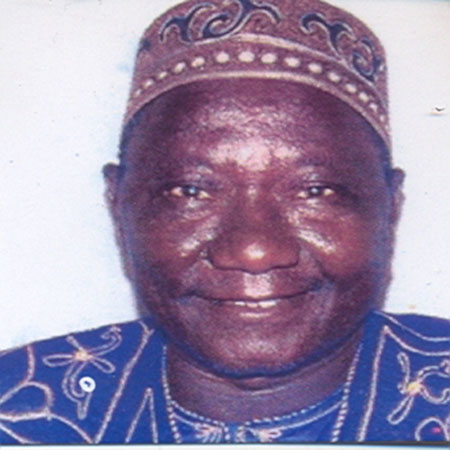 Hello and a warm welcome to yet another scintillating edition of Personality of the Week, your weekly column aimed at bringing prominent Gambian top notches and achievers into the limelight.
As it is always said, death can strike anyhow, anywhere and anytime. In this sense, we live in the danger of death every working moment- that is, the fact that we are alive means that we shall die someday. It is for this reason that philosophers over the ages have urged us to live each day as though it were our last day on earth.
Well, in today's edition, we bring you the profile of a man who though has gone, his legacy will remain fresh in the minds of many people (Gambians and non-Gambians alike) and will always be a shining example of selfless service to humanity. A man who was a lot more than what he seems. He is the late Alhagie Lalo Samateh, veteran journalist at the Gambia Radio and Television Services (GRTS) whose sudden demise on Friday 17th October spread across the country. But knowing Lalo during his life- time, death has come too soon, many would have loved him to live on some more.
The late Lalo Samateh meant many and different things to many and different people. He was a father, an uncle, a brother, a journalist and an honest broadcaster. But it is in his last capacity after retiring and taken back on contract basis at GRTS that he endeared himself far more to the nation and to humanity.
He devoted his life to broadcasting, a noble profession. Doubtless, as a journalist, he must have influenced the lives of so many people who are possibly in positions of influenced and authority today. Any one who knew him will no doubt be sadden by his passing away.
Born in the year 1942, the late Lalo Samateh, a native of Salikene in the North Bank Region met his untimely death on Friday 17th October at the age of 66.
The late Lalo Samateh, who was until his demise working for the State owned GRTS radio on contract, joined GRTS in the mid 60's from the Audit Department as a freelance announcer.
Prior to his appointment at GRTS Radio, the late Lalo Samateh distinguished himself as an ardent auditor who spent part of his life at the Audit Department.
Brought up in Banjul by the late Kebba Buya Jallow, the late Lalo served radio Gambia for so many years before returning back to the Audit Department and then back to radio Gambia again as a trainee announcer.
Few years after joining GRTS Radio, the late Lalo's passion in the pursuit of education remained unabated. He undertook series of courses on broadcasting within and outside the country.
He was from there promoted to the rank of senior announcer before being elevated to the position of head of local language section and religious affairs.
After retiring from GRTS, the late Lalo Samateh was not left alone, as GRTS could not afford to loose him and thus took him again on contract basis up to his retirement.
His love for sharing his knowledge whenever and wherever possible brought him out of retirement. He then went back to work for Radio Gambia on contract basis until he met his untimely death.
A trained BBC journalist, the late Lalo Samateh undertook series of courses on broadcasting. He was once attached to Radio Senegal as Salesmanship.
As explained by his long time friend and colleagues at Radio Gambia, Alhagie Mansour Njie in a recent interview with The Point, the late Lalo Samateh was a patriotic citizen who is always dedicated and committed to his job. "He love everybody and he was a pious man".
Lalo's returning back to GRTS radio after his retirement was no doubt a well-deserved recognition of his immense contribution to humanity as a veteran broadcaster and a mentor to thousands and thousands of people even at Radio Gambia.
As one of the longest serving journalists that this country has ever produced, the late Lalo was very strategic, thoughtful, organised, compassionate, saintly, incorruptible and honest to goodness.
During his time at radio Gambia, he conducted his work diligently, upheld the dignity of the institution and led by good examples. His ability to be upright made him a role model worthy of emulation.
He will always remain a shining example of selfless service to humanity. Adieu Alhagie Lalo Samateh!
The late Lalo Samateh is survived by three wives and fourteen children.
Read Other Articles In Article (Archive)