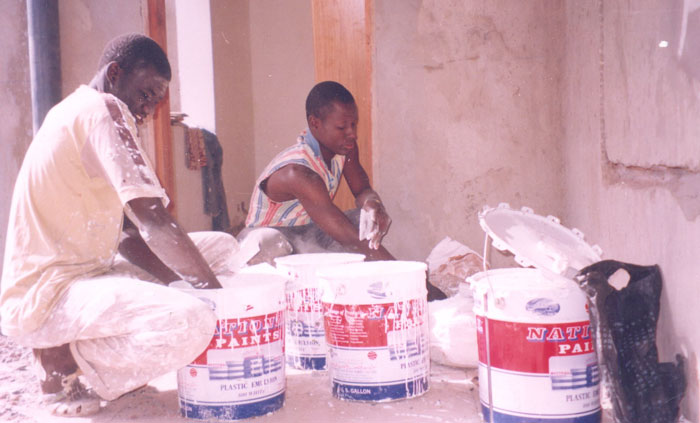 Hello and a warm welcome to yet another scintillating edition of Personality of the Week, your weekly column aimed at bringing prominent Gambian top notches and achievers into the limelight.
In today's edition, we bring you the profile of a young man today needs no introduction in this small but tiny West African country of The Gambia. Those who know him will sing his praise.
A hard working young man no doubt, he ranks among the finest citizens Gambia and Africa in general has ever produced. His capabilities, skills, high sense of discipline and strategic initiatives put him upright as a corporate citizen.
He is visibly one of the most development-oriented women in Gambian society today; a man whose flair for quality and excellence is easily noticeable. He is no other person than Mr Tumani Nyassi, the brain behind T Pad Enterprises Limited.
Business is his cup of tea. At his place known as T Pad Enterprises Limited, the only language they speak is business first. Like any other serious minded young man, business and pleasure are two different things. In Tumani's own words, a good citizen is expected to strive, not for sitting idle. He also said that a good citizen should not avoid working for a living on the pretext that there is no office jobs available, not to work under the sun, as silver and gold certainly do not fall from the sky.
Tumani is now a man who believes in himself.
Out of his sheer desire to contribute to the economic growth and personal development by creating job opportunities for Gambians, Tumani has brought to the living rooms of business conscious people a reputable company specialised in design, decoration and painting, sign writing, renovation work and car spraying.
Well trained staff with the professional skills, befitting business temperaments and full dedication to work make up the work force at T Pad Enterprises.
Having already left an indelible mark in many corners of society, there is no doubt that this young man has today earned the respect of many Gambians owing to his indisputable loyalty, honesty, simplicity, handwork and commitment to duty.
His ability to succeed has been established beyond any doubt. It has also put him upright as the one of the greatest citizens that this country has ever produced.
Tumani Nyassi, a graduate of the National Youth Service Scheme in 2005 is among those Gambian youth trying hard to live the dream of self-employment, independence and industry. The knowledge and experience he has got from the National Youth Service Scheme is helping him to build for himself a career and earn a living.
As part of his training he did a secondment at the Gambia Technical Training Institute in painting and decoration, carpentry and building and construction. Soon as he has started to work on attachment at the Medical Research Council in Fajara, Sheraton Hotel at Brufut. His carpentry skills were at hand to help build skills were at hand to help build and fabricate the mounts for the exhibition at the Gambia National Museum and Kerr Batch Museum under the curatorship of Hassoum Ceesay.
In 2006, Tumani started executing the painting and decoration work for the Guaranty Trust Bank. Since then, he has done work in all their branches and residences. Staff and customers have always had good sentiments to say about the work as neat, timely execution and cost effective. Indeed, for a reputable bank like Guaranty Trust to retain him for so long speaks well of the quality of his work.
Mr Nyassi has also recently benefitted from the youth loan scheme given by the National Youth Service Scheme to enable an ex-corper to start up business. He has registered T Pad Enterprises Limited, which he today runs thanks to his continued hard work, determination and commitment to duty. He specialises on design, decoration and painting, sign writing, renovation work and car spraying. Interestingly enough, Tumani today has six young dedicated Gambians under his tutelage.
He has also done painting work for Standard Chartered Bank (Basse), Gambega, Continental Travels, ASB Clinic and others. Tumani no doubt plans to strengthen his company to enable him train more youths interested in decorative work. His message to other youth is to aim higher, get training and execute works given to them on time and honestly.
Tumani expressed his gratitude to the Gambia government through the National Youth Service Scheme for their support and his numerous clients such as GTBank MD, General Manager Mr Bolaji, Deputy General Manager Mrs Marie Colley, Amadou Touray, Gabriel Gomez and Bakary S. Gibba, Gambia Technical Training Institute and the NYSS for their continued support.
Read Other Articles In Article (Archive)