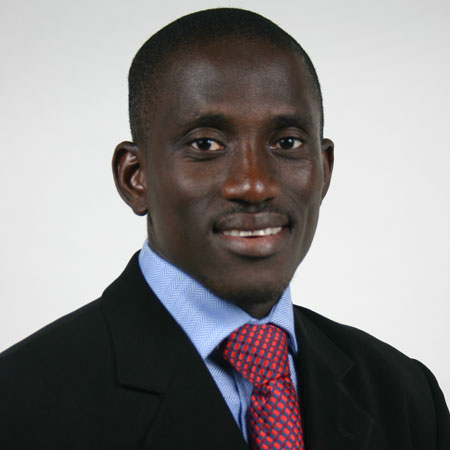 Hello and a warm welcome to yet another scintillating edition of Personality of the Week, your weekly column aimed at bringing prominent Gambian top notches and achievers into the limelight.
As stated in our first edition, this column has and will continue to bring you profiles of the giants in today's Gambia. In our today's edition, we bring you the profile of a man who is no other person than Mr Momodou Sabally, an ardent Economist/Statistician at the research department of the Central Bank of The Gambia.
He began his journey into the business world from scratch climbing through the ladder, which has undoubtedly toughened him for life.
His progress to greatness, distinguished by the admirable quality of dedication to duty is exceptional. He is an imaginative and innovative character who always likes to try new things.
Born in Banjul in the mid- seventies, Momodou Sabally spent his child hood in Lamin where he attended Saint Peter's primary school under the tutelage of John P Bojang, former Gambian Ambassador to US and Taiwan and current Head of National Council for Civic Education (NCCE). After a five year primary school education, precipitated by his promotion by the then head master upon completion of his fourth grade to the 6thgrade, he proceeded to Saint PetersHigh School.
Sabally did a two-year A'Level Course at the Gambia High School from 1992-94, completing as the most out standing student in that year's GCE A'Level exams at his school. With no university in the country then, he stayed a full year without a job and no sign of opportunities for further training. The advent of university education in the Gambia, ushered in by the then AFPRC was to open a new horizon and a course of total transformation for Sabally. He signed up with the first batch of students to become an active participant in the shaping of the country's nascent university called the Saint Mary's University Extension Program (UEP). He served as president of the University students Association and also as member of the Executive committee of the Gambia Students Union (GAMSU).
On February 16th1999, Momodou Sabally graduated as valedictorian with the country's first batch of home-grown university products with a major in Mathematics and a minor in Economics.
While going to the UEP, Sabally also worked as Youth Assistant with the department of youth and sports, taking up the assignment of Youth Officer for Western Division where he co-ordinated youth and sports activities for the whole division from his station at the Commissioner's Office in Brikama. His tenure at the department of youth and sports has been very significant in his process for growing up as a young professional. This job exposed him to the experiences and challenges of young people all over the country through his participation in national and international youth forums. In 1999 he attended the First International Conference of Young Leaders in Taiwan.
Sabally switched jobs in the summer of 1999 when he took up appointment as Economist/Statistician at the research department of the Central Bank of The Gambia. A career that has further broadened his horizons through professional work and training at institutions like the IMF, bank of England and the Central Bank of Switzerland' training institutes.
Alongside his professional work, Sabally also has a deep-seated passion for writing. He started off during his college years writing poems and short stories for the Daily Observer newspaper and also sports stories for the Point where he published many stories featuring young football stars in the Gambian league. He has served as president of the Association of Authors and Writers. 
He published his first book Jangi Jollof: a Memoir on the Gambia's First University Programme, January 2005, launched by H.E the President Professor Alhagie Yahya A.J.J Jammeh. This book documents the genesis of university education in the Gambia in a lively readable narrative that teases the reader forward through three years of ups and downs in the story of the authors coming of age as a scholar in the context of his country's encounter with university education at home. This book, which has been lauded as "a work of historical significance" has since been excerpted and published as a chapter in a book edited by Canadian Professors Jim Morrison and Michael J. Larsen in a book entitled "Partners for Progress" that also details the story of the university extension program.
Mr Sabally has since progressed in his writing career, publishing two more books in two years and is currently finishing his fourth book to be published next year. He published "Instant Success: the Ten Commandments of Personal Achievement and the Road to Enduring Riches" in 2006. This book was featured on the BBC's popular Network Africa program. He also authored "Secrets of the world Champions", both titles are of the self-help/motivation genre. He is at an advanced stage in forming a career in motivational writing and speaking. Mr. Sabally has been running an inspirational website www.mlsabally.com through which he also published and edited a bi-weekly e-zine "Inspirational Success Now" during his three-year sojourn in the United Sates of America, during which period he also did a Masters in Economics at the GeorgiaStateUniversity in Atlanta. The website is currently being rehabilitated for a re-launch early next year.
With a passion for inspiring individuals and communities, Momodou Sabally has set for himself the personal mantra of Life-long Learning.
He has two sons, Omar and Muhammad and is happily married to Jainaba Teeda Sarr.
Read Other Articles In Article (Archive)