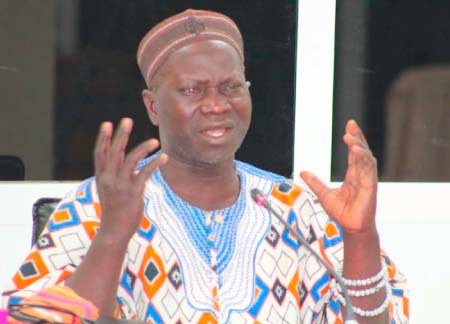 Former President Yahya Jammeh's waiter, Ebou Jarju, yesterday testified before the TRRC on his arrest, unlawful detention and some perceived wrongdoings of Jammeh. He revealed that his former boss (Jammeh) had over 40 "ataya" (green tea) girls.

He testified that these were only ladies who brewed for Jammeh and used to be with him in the house for long spells during the night.
He said some of these ataya girls, were from the NIA, PIU, Gambian Immigration and the military. He added they were more than 40 girls.
Born at Kombo Dasilameh, Jarju was trained as waiter and employed at State House in 2001 to serve Jammeh.
He said he was always accompanied by an orderly in the execution of his job. He added that the procedure was to make sure that the president's food was safe.
He revealed that Jammeh did not receive water from Gambians and he only drank French mineral water. He said what Jammeh says outside and what he does at State House are different; adding he is only good outside but he insults when he is inside.
Jarju testified that Jammeh used to whip his orderlies or used mosquito spray on them whenever he meets them sleeping.
He recalled that there was a time when a particular female protocol called Kodou, suggested that Jammeh should be advised to stop the throwing of biscuits because it was killing many people. However, she was later transferred.
"A child was knocked by a vehicle in Jammeh's convoy around Karewan, Senegambia who died. Many people said they never saw Jammeh stop to show sympathy with these victims. One day the convoy knocked a man called Nyassi to death around BB Hotel. Nyassi was on a motorbike and lived at Sintet village." He told the commission that one Kandeh and Willy Bakoteh were also knocked and they all died.
"Between 2001 and 2008, Jammeh's convoy killed about 20 individuals."
Narrating his problem with Jammeh, he said he once went with Jammeh to an OIC meeting in Dakar, where he (Jammeh) asked whether he (Jarju) knew Sheikh Tijan Hydara. According to him, he responded yes.
"Jammeh called his orderly Yusupha Sanneh to take my phone. My phone was kept for two weeks, and one day, Sering Modou Njie told me to go to his orderly and collect the phone but I said to him that I was not interested."
He testified that one Wednesday, he went for work, and served him (Jammeh) breakfast, lunch and dinner. He added that Jammeh later told one of his orderlies Ba Jerreh "to tell the idiot (me) to go home."
He recalled that the incident was March 2008 and he went home. He narrated that after some minutes to 12 noon, Ba Jerreh called and said Jammeh had ordered his removal from the quarters.
The witness said he was later picked and taken to Major Crime Unit, where he met Lamin Ceesay and others.
"I was told that I poisoned the president's food. I laughed and told them to go to State House and conduct their investigation if they wanted to know my work there. They asked what was in my bag, and by then, I was having glycerin and mosquito repellant. They went to NDMA and Sheikh Anta Jobe in Senegal to check but it was tested non-poison. All that while, I was locked in a cell for nine months two weeks and I found someone who was there for two years."
He said he was rearrested within two weeks after his release. He said he was there for five days and was alleged of having spiritual water in his bag.
"I was taken to Mile 2 where my names were taken. They took me to security wing called confinement. I was never charged with any offence or taken to court. I was detained at Mile 2 for three years five months."
Witness said since he was locked at Mile 2, no one knew his whereabouts.
He further continued that he was with Jammeh at Mauritania during the 2006 coup attempt, and the leader of the junglers, Tumbul Tamba told him that they had finished all of them, meaning they had killed the coup plotters. 'To my surprise,' he said, he heard over Radio Gambia that Daba Marena had escaped.
Jarjur further testified that the group that was labeled black-black took their orders from Jammeh, revealing that they killed Haruna Jammeh and Marci Jammeh. He told the commission that according to Lamin M.I. Jatta, an intelligence attached to Kanilai, one Cessay was killed by Jammeh's hit squad.
He told the commission that Jammeh used to put concoction on foods and gave out to people. He said Jammeh might do the same to the waters because he only drinks foreign waters.
Read Other Articles In Article (Archive)