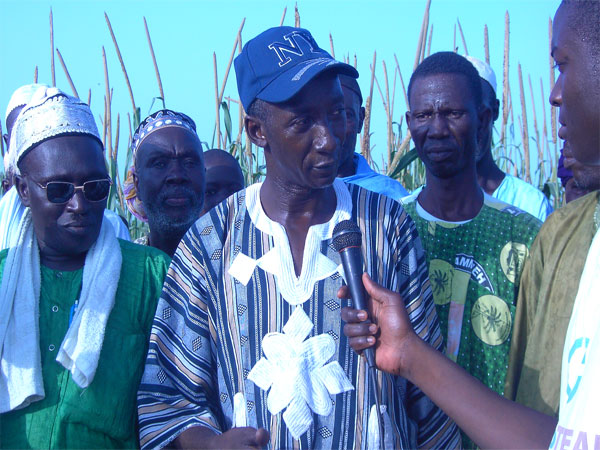 Trend-setting Parliamentarian, Businessman cum Philanthropist
Hello and a warm welcome to yet another scintillating edition of Personality of the Week, your weekly column aimed at bringing prominent Gambian top notches and achievers into the limelight.
As stated in our first edition, this column has and will continue to bring you profiles of the giants in today's Gambia an as a result, we today bring you the profile of a man who is no other person than Hon. Alhagie Ablie Suku Singhateh, National Assembly Member for Lower Baddibu, an ECOWAS Parliamentarian cum Businessman and Philanthropist with no regrets.
There is no denying that in the history of any country, successive generations must have individuals who serve as pillars of society, talk of the country, and of course some extraordinary men and women who provide inspiration to young upcoming and promising nationals of the state. Hon. Suku Singhateh belongs to this phylum of people in today's Gambia.
Of course some are born great, some achieve greatness and some have greatness trusted upon them but for this man, Hon. Alhagie Ablie Suku Singhateh, ECOWAS parliamentarian per excellence, he has achieved greatness.
He is a man whose vision and mission for this country makes him stands out as a key stakeholder in the socio-economic development of this country.
His progress to greatness, distinguished by the admirable quality of dedication to duty is exceptional. He is an imaginative and innovative character who always likes to try new things.
'Suks' as he is popularly called, was born on 1966 in the village of Baddibu Saaba, in the Lower Baddibu district of the North Bank Region. He is a man whose cup of tea is giving a helping hand to the needy when and wherever necessary.
He set forth his educational pilgrimage in NdembanPrimary School in the year 1973 from where he later proceeded to AlbredaPrimary School all in the North bank Region. Suku later decided to leave school and opted to go for Arabic education.
After spending two years in the Arabic school, Suku, who is the last son of his father decided to go back to school and started at Kinteh Kunda primary school at a time when his former school mates were already in grade five.
From Kinteh Kunda primary school, Suku Singhateh sat to the common entrance examination at Kani Kunda primary school from where he went to St. Augustine's High School in Banjul and finished in 1989.
During his high school days, Suku stayed alone; there was no guardian. He was having a scholarship, which helped him a lot. He starting driving his own private car at form 4, receiving very good allowances at the time. He started his business journey since his early school days, collecting goods from Alhagie Kemba Gassama, a renowned businessman to sell to earn a living.
From school, Hon. Singhateh left for Germany in the year 1990 being the first Gambian shipping agent in Germany by then. He encouraged many Gambians to be sending their goods to their home country following fruitful negotiations with a Ghanian counterpart who appointed him as representative of his company called Maxwell International Expedition to the Gambia. He was importing goods ranging from rice, oil and other goods to the Gambia, with the sole objective of complementing government's effort in eradicating poverty in this country.
Interestingly enough, Hon. Suku Singhateh is today an ECOWAS parliamentarian after his election in 2007, a trend-setting businessman and a keen philanthropist whose outstanding generosity covers such diverse fields as relief aid, education, health, religious activities, business development, women's causes and community development.
When he was elected as the people's representative, Hon. Singhateh set as his priority, the empowerment of women, offer of scholarships to students, empowerment of farmers amongst others.
The calm and down to earth Hon. Ablie Suku Singhateh is no doubt a die-hard supporter of President Jammeh and the APRC party taking into consideration that he is the APRC Desk Officer in the North bank Region.
In him, President Jammeh has found a die-heart stalwart, and the rewards have been many and varied and clear even for the blind to see. Right from his days as a businessman, then National Assembly Member, Suku Singhateh has always nailed his colour to the most, brazenly drumming up support for the governing APRC at every opportunity.
In his view, the people of North bank Region are so impressed with the level of development in their region over the last 14 years that they're poised to give the President and the ruling APRC the massive support needed at all times. He led series of APRC campaigns in his region drumming up support for the ruling party.
For the Regional APRC Desk Officer, the determination and the energy shown by the people of North Bank to always rally behind President Jammeh in grand-style could be justified by the 'limitless development' that the President and his party has brought and continue to bring to their living-rooms.
Happily married with two caring, lovely and supportive wives and blessed with seven kids, five boys and two girls, Suku is a man who can be easily recognised in public by virtue of his humility and down to earth attitude. His friends and close associates opine that Suks is a remarkable hard to find patriot.
They know him to profoundly subscribe to the fact that the Gambia government's Blueprint Vision 2020 is attainable, and thus everyone should be a participant in attaining this lofty goal.
Read Other Articles In Article (Archive)