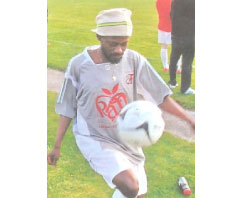 Solomon Jawneh is a player of outstanding performance.
The 26-year-old is a Gambian-born football star who plies his trade with the Swiss second division Chevorney FC.
To many fans, Jawneh belongs to a selected group of talented Gambian foreign-based stars.
Jawneh is a fine player that can be compared to the great Gambian foreign-based players that have left a mark in European football, such as Ebou Sillah and former captain of the Scorpions, Jatto Ceesay.
Even though he has never tasted a national team football at the highest level, Jawneh is fast catching up with reaching that level.
He began his football career with a local team called Bansang Forestry in URR and also had successful spells in Brikama amongst a host of other local teams in The Gambia before breaking his way into the professional arena.
But it was on the domestic front that he made the biggest impact, joining the Spanish 4th division outfit Premier De Marr in the season of 2000 where he had only a short spell before making a sensational switch to Bariluna, a 3rd division team in Spain. The same year he left previous club side Premier De Marr.
The offensive-minded star Jawneh, who can also play in different positions, had impressive stints with a host of other European clubs, including FC Zurich, a division two football club in Switzerland and then moved to steer for Verdon Sport in the 2003/04 season.
But before that, Jawneh, who is eyeing a call-up to the Gambia senior national team in the ongoing qualifiers for the Africa Cup of Nations, was a key member of Swiss 3rd division team FC Ranks, following his switch to the club in 2001/02 season.
Born in URR in 1984, the ambitious Gambian prodigy continues to contribute immensely in the development of football in The Gambia.
It is against this backdrop that he immediately established a football academy in Brikama Newtown named after himself, Solomon Football Academy.
The Academy, located at Brikama Sanneh Kunda, was founded in 2009 and has an impressive total number of 108 kids who are trying their luck in the Academy under the guidance of Alagie Njie.
Jawneh strike rate alerted many European clubs but he maintained allegiance to his Swiss side Chevorney, where he still remains a key figure since moving to the club three years ago.
Read Other Articles In Article (Archive)