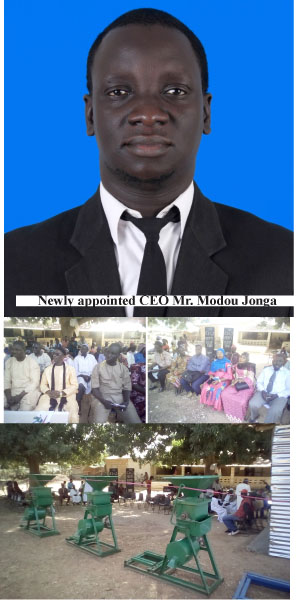 As of efforts to minimize drudgery people face in their communities, the Management of Brikama Area Council (BAC )under the leadership of its newly appointed Chief Executive Officer Mr. Modou Jonga, over the weekend handed over labour saving devices worth over half a million dalasi to three communities within Bullock Ward.

The labour saving devices, which include 3 milling machines and 3 grinding machines, are meant for the communities of Sutusinjang, Bullock and Besse respectively all in Foni Berefet district.
At the handing over ceremony, Mr. Ismalia Badjie, Councillor for Bullock Ward recalled that few years ago Bullock Ward benefited from the Council in the form of construction of five classroom blocks with an office of Sutusinjang Islamic school, to a tune of (D229, 620.00).
'Today Bulock ward is very much appreciative to benefit from another D500,000.00 and this is part of 2019 ward allocation project from BAC with the initiative from the development committee in partnership with the planning and development unit of the council'.
Out of this ward allocation, he said, the ward identified this project that they are about to inaugurate today, indicating that the 3 milling machines and 3 grinding machines with their accessories are for communities of Sutusinjang, Bullock and Besse respectively.
Badjie maintained that each of these communities was allocated 2 machines, one milling machine and one grinding machine, adding that the machines cost (D375,000.00).
He also disclosed that they have already applied for a three-phase meter at the National Water and Electricity Company at a tune of (D64,500.00) which they are yet to receive.
Badjie therefore urged the beneficiary communities to jealously take proper care of these labour saving devices.
Alkalo of Sutusijang village,Mamina Jammeh described the gesture as worthy and timely, further promising that the donated items would go a long in alleviating the drudgery people in these communities face.
'This donation was long overdue and I commended the management of the Brikama Area Council for this bold initiative'.
For his part, Modou Jonga, the Chief Executive officer BAC, recalled that in June 2019 BAC disbursed a sum of D25M to implement priority projects in five wards in West Coast Region, saying these five wards and their respective priority projects include Bullock Ward, Gunjur Ward, Kartong Ward and Giboroh wards.
The council, he said, has also completed the process of developing a five years strategic development plan, noting that the strategic direction in the coming five years will focused on environmental health and sanitation, supporting social and economic activity, promoting grassroots, development and enhancing localdemocracy, transparency and accountability.
Mr. Mam Sait Jallow, erstwhile retired CEO, described this event as yet another milestone in the history of the council, adding that the presentation of these labor saving devices to the beneficiary communities within Bullock ward was a worthy course.
'It is a worthwhile cause and Bullock Ward is one of the lucky wards who qualified for the ward allocation that was fully financed by the BAC to the tune of D500, 000.00. Among the criteria for qualification was that the project has to be community driven or initiated so that it will reflect peoples felt need and thus have a positive impact in their lives'.
Jallow expressed optimism that these labour saving devices would be put to good use, further advising beneficiaries to ensure that proper attention and necessary precautions are taken to ensure its longevity.
Read Other Articles In Article (Archive)