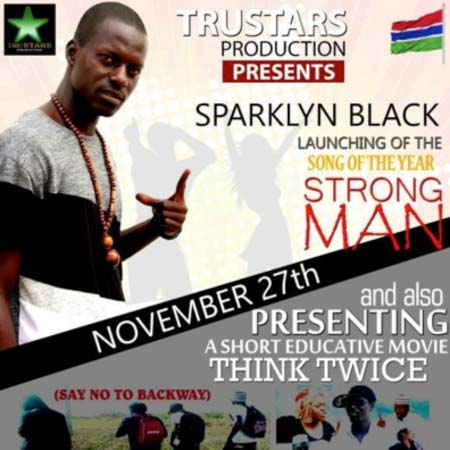 Sparklyn Black, a reggae dancehall singer, is set to launch his latest single titled 'Strong Man' on 27th November, 2015 at Penchamii Hall.
Sparklyn worked with Trustars Productions to shoot a 35-minute short movie designed to explain in detail the 'back way' syndrome in The Gambia.
The song outlines constraints that youths are facing in the country, and why the youths are embarking on the risky journey.
He told journalists: "The movie company will launch the movie and my new song the same night at Penchami Hall on November 27. I feel like all the artistes who sang about the 'back way' only explained the risk attached to the journey, but did not explain why the youths are risking their precious lives to take the dangerous journey. So in short, my new song called 'Strong Man' is what inspired the movie".
He said the song justifies the reason why the youths are going back-way.
Franklin Adim, the movie director of 'Strong Man', said he has been in movie production in The Gambia for four years now.
He explained that he once worked with Sparklyn, after realising that he is a positive and a revolutionary artiste who has lots of stuff to sing on issues affecting the society.
He said: "When we listened to the song, we felt we can do something with it. We wrote the script and did a 35-minute movie. Sparklyn himself is the main character, and the movie featured 45 casts who will all be present on the day of the launching. The song of the year 'Strong Man' will be officially launched that night, and the movie premiered."
He noted that the movie director said after the launching, they want to take the movie to schools and inform the students about the dangers involved in taking the 'back way'.
Fatima Jawo, manager of Sparklyn, urged the public to come in their large numbers to support.
She said there will be a performance of dancing groups, drama performances and few motivational statements would be featured, disclosing the top artistes lined up to light up the night.
Artists lineup are Sambou Susso, Tapha artiste, Youtha, Royal Messenger, Lady Quincy; and Karafa music will be mixed by DJ Kalaras," she added.
Read Other Articles In Article (Archive)