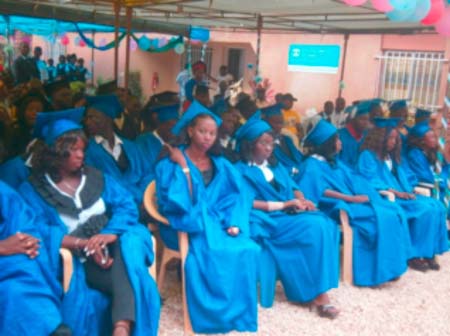 Forty students on Wednesday graduated from the SOS Regional Mother and Adult Training Centre (RMATC) at a ceremony held at the school grounds in Bakoteh.
Eighteen students graduated from a social work programme, sixteen from catering and hotel management and six from sewing and craftwork.
The theme for the graduation was "Help People to meet Social Challenge".
In her welcoming remarks, Ellen Maraizu, Director of SOS-RMATC, said the centre is known for its excellence.
According to her, through training they believe people can be empowered to discover their potentials and to have a greater capacity to develop them to become useful and productive in society.
She further highlighted that the centre is responsible for providing all the SOS staff from nine countries within the North-West Region of Africa with training.
Mrs Ellen disclosed that the millennium development goals for 2015 highlight the significance of working in partnership to reduce factors that bring hardship and suffering in society.
She said the centre provides vocational studies for those who have had limited opportunities to complete their education or have not achieved academic success.
At the end of each graduation, students are able to produce clothing, shoes, jewellery and other items, she said.
"Through partnership with UNICEF, Social Welfare and the University of The Gambia, we have been able to train much needed social workers since 2006," she said.
Mr Fallu Sowe, of the department of Social Welfare, expressed his appreciation for the efforts of SOS Children' Village International, North West Africa in providing the training opportunity for young people in complementing government's effort.
"This is an evidence of public-private partnership that this government is earnestly promoting in all sectors which also fulfils government's millennium goals of global partnership for development aimed at reducing poverty and hunger in our society," he said.
Mr Sowe urged graduands to uphold the high ethical standard required of their professions, to be committed into contributing positively to the development of the nation and humanity in general.
In her valedictory report, on behalf of the graduates, Chukwu Bernadine applauded the staff and the administration of SOS RMATC for their support.
"The school provided excellent and experienced lecturers, comfortable classrooms, adequate learning facilities and an environment conducive for excellent training," she disclosed.
Read Other Articles In Article (Archive)