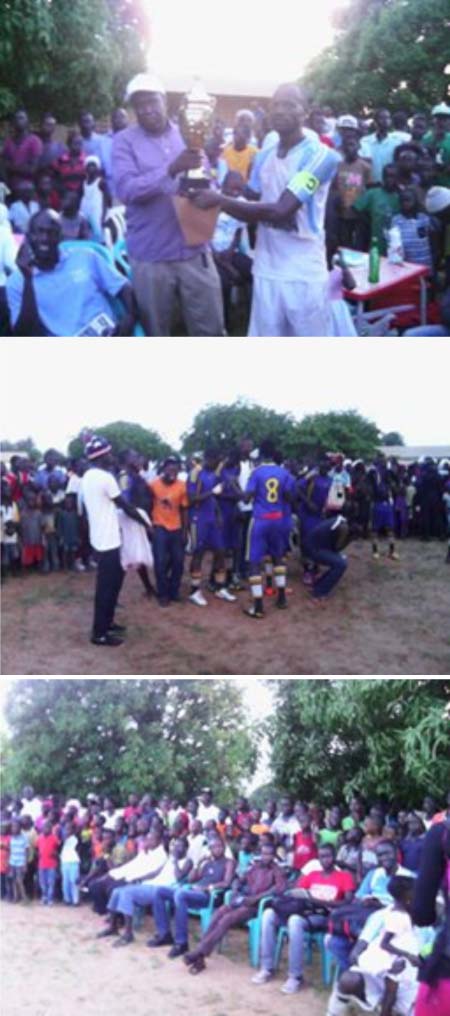 Soma Sitaba FC went home jubilantly for receiving the final trophy of the Jarra West District Football Tournament on Saturday.
The team beat Gamstar FC of Soma on penalty shootouts after a game of goalless draw at the Soma Primary School football field.
Besides lifting the trophy, the winners were awarded a cash prize of ten thousand dalasis while the first runners-up got eight thousand dalasis.
The award for best player went to Kemo Camara alias Hector of Soma Sitaba FC. Mustapha Jawneh of Misira FC won the prize for leading goal scorer with four goals, and Jenoi FC were crowned 'the most discipline team' of the tournament.
Spectators applauded the organisation of the tournament for being the largest single event of youth gathering in the district.
The Governor of Lower River Region, Salieu Puye, who gave the closing ball kick of the competition, recognised what he called employable talents of the boys in the game.
He noted that football on the field is at an advanced stage at the district, saying the players are good assets to the national teams.
He encouraged the organisers to continue to engage the players in the development of their football career.
Speaking at the award ceremony, head of the tournament organising committee, Ansumana Sanneh, commended the teams for choosing to invest their monies in the tournament from the onset.
At whatever stage a team finishes its campaign in the competition, it worth the cost involved in it.
Lamenting on some of the challenges in funding for the teams and tournaments, he urged team managers and coaches to persist in their efforts to develop football in their localities.
He also called on the business community and partners in football to reinforce their support for football.
Head Coach of Jarra West District, Ensa Darboe praised all the players for their participation in the tournament.
He said the boys played professionally and did exercise maximum discipline and sportsmanship.
He advised them to keep their fitness even at the end of the tournament because "a player should always be prepared for trials and competitions".
[endif]
Read Other Articles In Article (Archive)