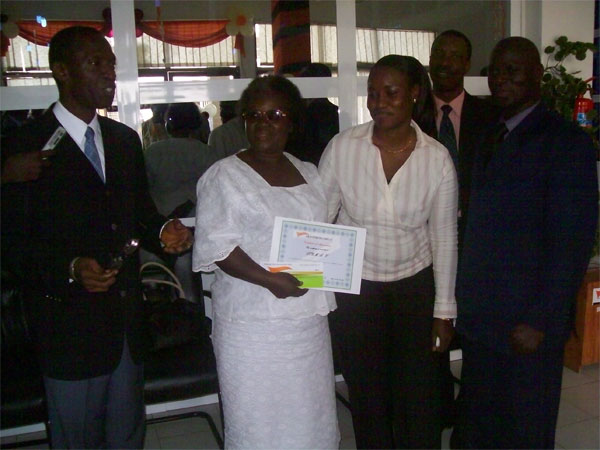 Barely three months after resuming flights Slok Air International has started recognising its valued customers. Admire Victoria Loum, Principal of Crab Island Upper Basic School, was the proud winner of a return ticket to her usual destination and a certificate of appreciation.
According to Paul C. Mendy the admin and sales manager of Slok, their flights resumed operations on the 9th of February 2008 after their usual maintenance in Ethiopia.
"After just three months of operation Slok decided to choose the 1000th passenger to be our lucky winner," he told The Point.
Already, Mr. Mendy said, they have over 30 Gambians working for Slok. He thanked all and said, "We are here for them. We want to thank President Jammeh, Fansu Bojang, the Department of State for Communication, Information Technology, our customers and Gambians.
Mr. Mendy confirmed that they are the biggest carrier in West Africa and they cover ten countries in the sub region.
Alhagie PS Sallah, station co-ordinator, said they are a commercial airline operator. "We try to fulfil the social lives of people. We also join in the live of respective countries especially Sierra Leone and Liberia who are just emerging from war situations.
We are trying to give back to our customers," he said.
He added that they are grateful for the governments' good will.
Mr. Sallah reiterated that they have been involved in humanitarian areas including helping those who need to go overseas for treatment.
Mrs. Admire Victoria Loum, the lucky customer, congratulated Slok for their humanitarian gesture. "I encourage all and sundry to fly with Slok Air International," she said.
Read Other Articles In Article (Archive)