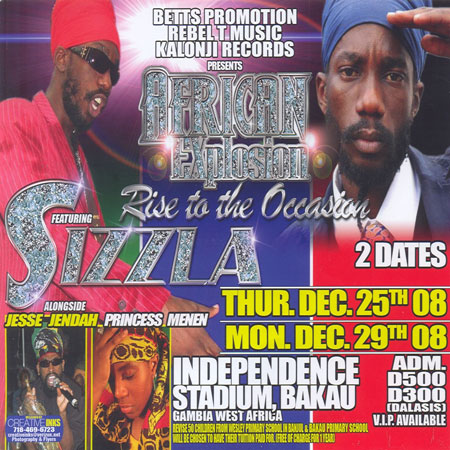 International renowned Jamaican reggae star, Sizzla has released a new album entitled, Ghetto Youth-Ology.
The album was released last month in April 2009 in his country, Jamaica.
According to information sent to Entertainment through e-mail, this cohesive work of art serves up an array of blessful culture songs entirely produced and backed by The Firehouse Crew.
Sizzla's live tour band that have provided some of his beggest songs to date, reveting pitch- shifting timbre, matched with the famous Jamaican band spellbinding rhythms creates a rare harmonious fusion throughout the albums entirely and rivals with some of his best work up till now.
With its lyrical power and high production quality, this 15-track LP, with B Greensleeves Records, brings the prolific singjay back to his essence- chanting truths and rights over Firehouse Crew solid live riddims. Whether he is addressing flawed socio-economic issues on the first single Ghetto Youths Dem A Suffer or uplifting youths during their most formative years on inspirational ballads like Gwaan Bear, Hey Youths and Future is yours.
Sizzla covers the 101 and 102 on Ghetto Youth-Ology.
He carries in a similar Ve in and adds to the ever-expanding repertoire of reggae tributes for US 20 President Barack Obama on Black Man in the White House. And then he pours out his heart on love tunes like I M Loving You and What I M I TO DO.
Almost 15 years deep and with more than 40 albums under his belt, Sizzla's energetic singjay-style and lyrics of Rastafari expresses his passion for the music.
Born in Miguel Collins in AugustTown, an inner City Community of Kingston, Jamaica. Sizzla had cemented his standing as one of his generation more versatile artiste with breakthroug albums like Black Woman and Child in 1997 respectively.
Read Other Articles In Article (Archive)