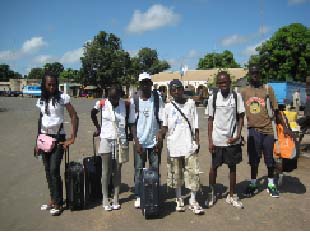 Six Gambian Tennis Players Participate in International Tennis Championship
By
Six players from the Gambia Tennis Association namely Muhammed Sallah, Dawda Kuyateh. Fatou Saho, Babucarr Gassama, Bubacarr Drammeh and Lala Sallah recently returned home from Senegal (Mbour) where they participated in the International Tennis Federation and the Confederation of Africa tennis championship.
The young tennis players demonstrated remarkable progress in both the U-12 and U-14 categories.
Despite tough competition from 20 participating countries such as Benin, Cape verde, DR Congo, Gabon, Ghana, Cameroon, Mali, Nigeria, Sierra Leone, Equatorial Guinea, Burkina Faso, Central Africa Republic, Ivory Coast, Guinea Bissau, Togo, Mauritania and the host Senegal, the Gambia have put up a wonderful display in both categories.
Muhammed Sallah and Dawda Kuyateh who were both instrumental during the 15-day tennis championship, booked their places in the second leg of the tennis tournament under the boys category despite they are only 12 years old.
The second leg has also produced spectacular performances by Bubacarr Drammeh and Babucarr Gassama who also progressed to the second leg with eye catching display after snatching victories over their opponents despite failing in their attempt to berth a place in the semi-final stage of the championship.
Meanwhile the female category which included the only two Gambian female participants such as Tennis association's duo Lalla Sallah and Fatou Saho, progressed to the quarter final of the Singles and Doubles categories respectively after putting up respectable performances which saw them finish at 5th and 6th positions in the 12 and 14 categories.
And if these magnificent performances by all the Gambian participants are anything to go by, there is a great possibility for the other tennis youngsters who are graduating from the grass roots level to raise the standard of lawn tennis in the country and beyond.
Read Other Articles In Article (Archive)