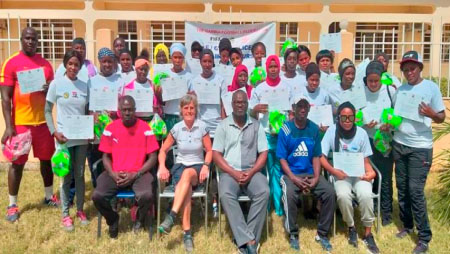 (Issued Monday 21 January 2020)
A week long CAF D license women's coaching Course for 7 aside U-15 Girls, Sunday ended at the National Technical Training Center in Yundum.
Twenty Five participants took part in the first ever CAF D License Coaching Course for small sided game conceived by CAF designed for Coaches in Women's football.
The Gambia is among sixteen countries selected by the continental football body as the cohort of the first batch of beneficiaries for the Course.
During the week long training, coaches were introduced to the new methodologies of football training and improved individual skills on the ball, basic movements in football, emphasis on the importance of small sided games, the role of the Coach and basic knowledge in First Aid etc.
Speaking at the closing ceremony, President of Gambia Football Federation (GFF), Lamin Kaba Bajo congratulated the participants for their accomplishments to the Course and thanked them for their punctuality and regularity during the week long period.
He said the GFF under his leadership will never relent in its core mandate to strive for the growth and development of Women's football.
Mr Bajo noted the vitality GFF attaches to grassroots and Women's football describing it as" one of the areas we will never relent in our endeavors".
He thanked the Project Coordinator of the German-Gambia Women's football Ms Monika Staab for her dedication, commitment and passion for the game. "
I want to thank Monika for yet another successful course under her project and this further shows that we are moving well despite her speed but we will catch up and the signs are positive".
Mr Bajo said the Gambia being among the Sixteen countries for the first ever 7 Aside Coaching Course for U15 Girls is considered a big success for the GFF.
Madam Monika Staab thanked the GFF President Lamin Kaba Bajo for his continuous support and encouragement given to Women's football.
She said Mr Bajo's personal support to her project initiatives are unlimited and "without the President's support, I would not have been here still now", she noted.
The renowned women's football expert said the commitment from the football leadership is one of the driving forces to the successful implementation of Women's football technical and development programs.
She also urged the participants to make good use of the knowledge gain and transfer it to their respective schools and league clubs.
Read Other Articles In Article (Archive)