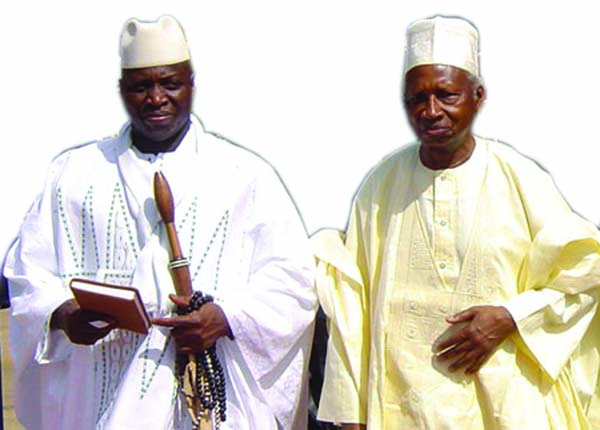 After 46 months of thorough research, The Gambia's former President Alhaji Sir Dawda Kairaba Jawara has made history again by becoming the first Gambian statesman to write and publish an autobiography.
Officially launched on Saturday 10th April by former President of Sierra Leone, Alhaji Ahmed Tejan Kabbah at the Kairaba Beach Hotel, the book, entitled KAIRABA chronicles the life and times of Sir Dawda, the then leader of the People's Progressive Party, the party that led The Gambia to independence in 1965.
Having served the country as veterinary officer, Principal Veterinary Officer, Minister of Education, Prime Minister and then President, Sir Dawda in this moving account bares his heart on the struggle for the independence of The Gambia, the establishment of the African Commission on Human and Peoples' Rights in The Gambia, the 1981 abortive coup, the Senegambia Confederation, the 1994 coup and life in exile in the UK.
With conciseness and candour, Jawara gives a graphic account of the events leading up to his reconciliation with President Jammeh.
Described as a source on Gambian history, the book is divided into 33 chapters and has three appendices. The Chapters chronologically follow on Sir Dawda's life from his birth in 1924 to the most recent activities of 2008. Chapters 1 and 2 chart his very early years, and also trace his family origins to modern day Mali in the second decade of the 19th century.
Chapters 6 to 9 trace Sir Dawda's early years in Bathurst as a school boy at the Muhameddan School built in 1903 at the initiative of Bathurst Muslim elders, who wanted to send their children to a Western school, but were more comfortable if they had a school where Muslim precepts were taught.
Sir Dawda also delves into his award of a scholarship to study veterinary science in 1945, and how he was to be away for a decade in Ghana, and Edinburgh, Scotland, before bagging a Doctorate in the field.
Chapters 19-27 recount the entire 32 years of Sir Dawda's leadership. The 1981 failed coup is treated separately in Chapter 24, which Sir Dawda described as an 'assault on democracy.'
Speaking at the occassion, President Yahya Jammeh, who was the chief patron, recalled his early days as second-in-command at the State House during the First Republic.
He described the book as "a very interesting review that has given us an insight" of when he started, how it started.
According to President Jammeh, he was surprised seeing Sir Dawda write a book, as he put it, he knew Sir Dawda as a golf player.
"But one thing I know about him is that, despite being a golf player, he reads a lot," Jammeh said.
"As I always say, a human being's destiny is in the hands of the Almighty Allah. This book is a very interesting review that has given us an insight of when he started, how it started because he didn't start as a politician but as a veterinary officer and later into politics and now is an author," he added.
President Jammeh further stated that The Gambia's political and democratisation process has highly evolved since then, and that it was with immense pleasure that his government accorded the privileges due to Sir Dawda, as an elderly statesman who also played his quota to the country's socio-economic development.
"It is interesting to note that this is the first time in human history that a head of state is overthrown by the military, he is brought back and retired and he enjoys a salary for life," he declared.
President Jammeh, however, stressed that the 1994 action to overthrow the then PPP regime, was not directed at Sir Dawda as a person, as according to him, he will never hurt him.
"Our action was not directed at him as a person, because I will never hurt him, but it was directed at a system that unfortunately he was the leader of and being the leader he has to go. But I promised him that I will never do anything to hurt him," he stated.
The action, he added, was taken "because there are others who capitalise on his (Sir Dawda's) kindness, his generosity to destroy the country under his leadership."
"We did not come with hearts full of hatred, but we came with hearts full of good things for this country," he said.
Sir Dawda Jawara, as publisher and author, commended President Jammeh for lending his tremendous support to the launch of the book.
He also expressed his gratitude to all those who in one way or the other contributed to the compilation of the book. This support alone, he added, has turned the occasion from "an ordinary book launch to something extra."
"I thank him from the bottom of my heart for all the logistical and other support that he and his government rendered to me on this occasion," he said.
According to Sir Dawda, it was around 1999, when he was at the age of 75, that he started thinking about writing his life story, and the story of their times, but added that it was not until seven years later that he finally embarked on it.
"I as the author and publisher had to do a lot of research to ensure that such detail memories are as accurate as possible.
"It has taken me 46 complete months to complete work on this autobiography, but I don't have any regrets in taking such a move," former President Jawara stated.
In his launching statement, Alhaji Ahmed Tejan Kabbah, former President of Sierra Leone, expressed his gratitude to both former President Jawara and President Jammeh, describing their relationship as a true and genuine one.
"I am really impressed with what I have seen, and I recommend that you share your experiences," he said.
According to him, it is from such books that the future generation would learn, and know how to continue the development process of the country.
"There is a lot of prospect for this country to progress if you love and embrace each other," Kabbah added.
Other speakers including Nigerian High Commission Esther John Audu, who represented former Nigerian president Olusegun Obasanjo, Monie Ralph Captan, former Foreign Minister of Liberia, who reviewed the book, and Ambassador James Victor Gbeho, President of the ECOWAS Commission, all commended the brilliant efforts of Sir Dawda Jawara.
Ebrima Jawara and Kawsu Jawara, both sons of Sir Dawda Jawara, also spoke at the ceremony.
Read Other Articles In Article (Archive)