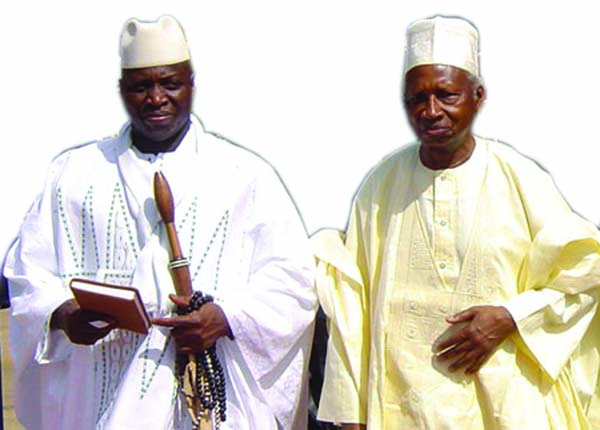 The Patriarch of the Gambian Republic, who also doubles as Father of the nation, the architect of our Independence and the champion of democratic pluralism in the African continent brought his trademark humility, calmness and grace to Atlanta on Friday night where He served as chief Guest of Honor at the annual AGERA Gambian July 4th reunion. If "Barajalians "are proud of their favorite son, they should have seen Sir Dawda's entrance into the Atlanta Holiday Inn Hotel on Friday night. It was a spectacle and a MAJESTIC one at that.
Flanked by his beautiful wife of over four decades, Ajaratou Lady Chilel Jawara, the Chairman of AGERA Mr Musa Jeng and former Kanifing Chairman, Mr Kebba Jallow, Sir Dawda walked into that venue with grace, elegance, poise and solemnity robed in a beautiful beige "kaftan." The entrance alone seemed to have been choreographed or scripted from Hollywood Boulevard because not only was it dignified, it was solemn and indeed it brought about many tears. For some, the tears were those of joy since it gave them an opportunity to reminisce their youthful days when they did see the Union Jack lowered for the last time and the Barajali native, Scotland trained Veterinary Surgeon turned Master Politician, receive the instruments embodying our Independence from the Duke of Kent on that gloomy February 18th morning in 1965. For others, particularly the younger generation, who did not know much about this Prince of Peace, it was time for them to say thank you!
Nostalgia would be an understatement but Master of ceremony Modou Jarju had better words when he said, "The Man that led Gambia to nationhood.' With a beautiful rendition of "Dawda Jawara "kora music", Sir Dawda was ushered in to the venue in a very dignified procession almost comparable to Queen Elizabeth's entrance to the Court of St James. To a standing ovation, a teary crowd welcomed Gambia's favorite son. For one moment the many sober ceremonies he led at the legendary McCarthy's Square were relived save for Bandmaster Mbye Jobe playing the inspection tune "DK SABIRI" which surely would have been an added impetus to the glamour and grandiose of the occasion. The national Anthem was played and a beautiful documentary depicting the life of the legend and put together by AGERA was shown on a jumbo screen.
Following that Alhagi Sir Dawda was entertained with 'SERUBA' which surely can be traced back to his historic and rich Mandinka heritage. The West African Masquerade Hunting Society of Atlanta brought the house down with their thirty six inches horned Zebra Masquerade and beautiful hunting music. The Master of ceremony Mr Modou Jarju told Sir Dawda that the performance was a tribute to him given that one of the first things he spoke about at Independence in 1965 was about our Ethnic and Cultural unity. Jarju also said Gambian Diasporans irrespective of political affiliation will be eternally grateful to Sir Dawda for his great contribution to the nation and also alluded to the many storms Alhagi Sir Dawda weathered in the 60's trying to bring The Gambia into the family of nations.
Speaking to this reporter, AGERA'S Chairman, Musa Jeng called the night a "dignified and deserving tribute" to the founder of our nation. Mr Jeng said it was indeed a singular honor for AGERA to invite Sir Dawda this year. He said it was a rare opportunity but also underscored the importance for children of Gambian parents born in the United States to meet this "rare gem." For Chairman Kebba Jallow, he summed it all up in these words, "He is a Man of the highest integrity."
On Saturday evening renowned Gambian Scholar and Academic, Howard University's Dr Sulayman Nyang chaired the book signing and launching ceremony of Sir Dawda's official autobiography "Kairaba." The internationally acclaimed Professor, who once served as a foreign Service Emissary under Sir Dawda not only gave the book a thumbs up, he told a true story that reflects the person of Sir Dawda Kairaba Jawara. Dilating on a 70's visit to Banjul by the late Siaka Probyn Stevens, President of Sierra Leone at the time, Nyang said during a tour of Banjul, Sir Dawda showed Stevens the voting process in The Gambia. He said after Stevens watched the exercise and heard the bell ring indicating the marble went through, He said to Sir Dawda in his native Krio, "BOE YOU TOO FAIR." That one is not in the book though but really was indicative of the Democrat Sir Dawda is.
In his turn, Sir Dawda spoke of the challenges in writing the book. He thanked specifically Nana Grey-Johnson, Swaebou Conateh, Foday Baldeh, Mr Signateh and his children for their valuable contribution in putting the book together. The book was hot cake and YES it sold out. One attendee told this reporter that his would be kept for posterity sake and he hoped his great grandchildren will read it and find out more about Jawara , the pride of the smiling coast'
Well at the infamous Mansakonko PPP congress on top of the Royal Hill itself, then Health Minister , the ever ariticulate Louise Antoinette Njie called Sir Dawda "unique and rare', may be then, it did not sink in, but what is absolutely clear after having shared his glorious life with all and sundry through the pages of KAIRABA and enjoying the remainder of his prolific life's journey at his Fajara residence shadowed by the beauty and serenity of the Atlantic Ocean, history will judge him and the records will indicate thus, "SAIKOU ALMAMI JAWARA, GAVE TO HIS COUNTRY ALL HE COULD, WHEN HE COULD, WITH WHAT HE HAD; WITH AMAZING GRACE AND DIGNITY." DK SABARI! SABARI O DK SABARI! Indeed it was a tune for the ages, but it was one that suggested diligence, fortitude, tolerance and patience!

 
Read Other Articles In Article (Archive)