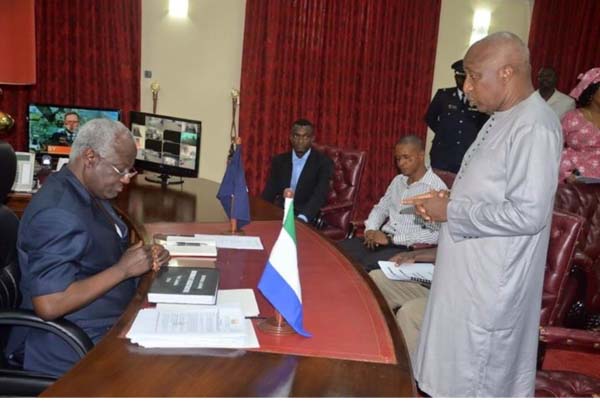 Sierra Leoneans resident in The Gambia, through the foresight, dedicated service and commitment of their Ambassador, His Excellency Soulayman B. Daramy, recently presented US$2,000 and £1,000 as their contribution towards the fight against the Ebola outbreak in Sierra Leone.
Sierra Leoneans all over the world are shocked by the deadly toll the Ebola outbreak has caused their country.
The horror and devastation has been so enormous that the country, still recovering from a ten-year-old war, could not handle, hence the international community, friends of Sierra Leone including Gambians, as well as Sierra Leoneans in the diaspora, stood up to save Sierra Leone from being utterly devastated by the Ebola disease.
During his speech at State House in Freetown, Ambassador Daramy pointed out that when the disease broke out, a group of Sierra Leoneans in The Gambia came together and formed an organization named Rescue Sierra Leone Initiative (RSI), which launched a fund-raising initiative through which the money was generated, together with some sanitisers, to support the effort of the government back home.
However, the Ambassador went on, the embargo on flights from Gambia to Sierra Leone made it difficult for the equipment to reach Freetown on time.
He suggested that the money should be used to buy sanitisers to be shared among schools in each of the fourteen districts of the country.
The Ambassador further presented a book of registered Sierra Leoneans in The Gambia, and a proposed plan of the new embassy building to be built on the plot of land donated by the Gambian government.
The Ambassador's entourage at State House included Mohamed Musa of Sierra Leone Nationals Union (SLeNU), Mr Alimamy Dumbuya and Ibrahim Koroma, all Sierra Leoneans resident in The Gambia.
In his response, His Excellency the President, Dr Ernest Bai Koroma, thanked all Sierra Leoneans in The Gambia and other nationals for their contribution.
He lauded the effort of Ambassador Daramy in preparing a register for Sierra Leoneans in The Gambia.
This is a pilot exercise for other missions to emulate, he said, adding that the data book will be presented to the foreign office for other missions to conduct similar exercise.
The President then handed over the funds to Madam Madina, the deputy Minister of Health, for it to be used for the intended purpose. 
Read Other Articles In Article (Archive)