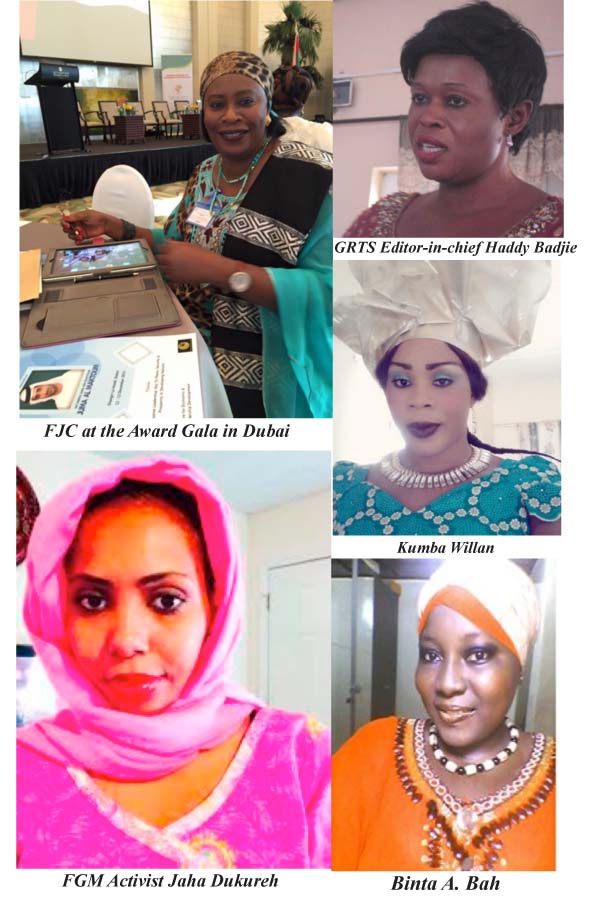 It was exactly 12 months back when we welcomed 2015 with a smile, courage, enthusiasm, dreams and aspirations and an agenda set aside for us to achieve.
Some have laughed all through while others cried all through, but then no matter what happen to us there is always a reason for us to move on with life.
This year 2015, SHE-SHE-SHE has been monitoring the activities of women throughout the length and breadth of the country, the challenges and difficulties, as well as their achievements and success stories in 2015.
Last year, five Gambian women made it to the SHE-SHE-SHE column's Women of the Year 2014 due to their hard work, dedication and contribution as role models in the society and The Gambia at large.
It may interest you to note that it is just one out of those 5 women that bounced back to be part of this year's SHE-SHE-SHE Women of the Year 2015.
Sometimes, I wonder if there is ever a day that FJC will disappoint young girls like myself, who look up to her as their mentor.
Fatoumatta Jahumpa Ceesay commonly called FJC has her own share of the sorrows and happiness in the year 2015.
FJC lost her husband in this very year, and I could remember the day I visited her while she was still mourning her husband's passing.
When I entered the house, she was right there sitting in front of me. The loss of her husband broke her down completely; she was as cold as ice, and the tone of her voice very low; and the look on her face told me that she was, indeed, going through one of the worst times of her life.
I could just imagine how painful it is to lose a loved one, especially someone you spend your entire life with, such as a husband.
She is a woman, a career woman but that does not stop her from mourning her husband. Indeed, she is the perfect mentor for young couples. However, 2015 was not only sorrow for FJC.
Just recently, she attended the South America-Middle East-Asia Women Summit Gala Award Dinner where she received the SAMEA Amazons Awards 2015 and the Global Women Leaders Hall of Fame list of inductees 2015 in Dubai, presided over by His Highest Sheikh Juma Bin Maktoum, Juma Al Maktoum of the Dubai ruling family.
FJC continues to be a good influence in the life of many in The Gambia and beyond. SHE-SHE-SHE wishes her luck and we hopes to see more success stories from her in the coming year ahead.
Who said the newsrooms does not have women who make sure that the correct information reaches the people at the right time.
Well, Haddy Badjie, GRTS Radio Editor-in-chief is one such woman that rubs shoulders with men in the newsroom.
We have seen the Gambian media being dominated by men, especially when it comes to editorial work; but now the trend is changing, and we have female editors-in-chief like Haddy Badjie.
Haddy Badjie has spent decades in the media, starting as an announcer all the way to being head of the editorial department, and she is doing wonders as anyone who listens to GRTS Radio would agree with me on to the good quality programmes they listen to.
My encounter with Haddy Badjie was at Juffureh, where she was a resource person at the Media Agenda Training Course for 50 Radio Journalists.
Listening to her lectures on broadcasting with that golden and melodious voice was, indeed, an amazing moment for me and the participants. Haddy's voice is unique, melodious and one could not have enough of it. SHE-SHE-SHE wishes her luck in 2016.
The year 2015 has been an FGM Year in The Gambia, as well as seen an aggressive campaign from young people all over the country against FGM; and one such young woman is Gambia-born US-based Jaha Dukureh.
Jaha is the CEO of Safe Hands for Girls. Since Jaha started an anti FGM Campaign backed by Guardian Newspaper, results started showing and finally a pronouncement by the Gambian President banning FGM was made, and the bill enacting a law to make FGM a crime passed.
Jaha is the type that is always there for young people, trying to help them the best way she can using her own resources.
Her biggest programme in partnership with the Guardian Newspaper was the FGM Academy, which brought together activists and journalists to equip them with the necessary tools in their advocacy against FGM.
The President's pronouncement was a victory for her and Safe Hands for Girls. We wish her luck and hope to see many projects to continue the sensitization on FGM from her in the year 2016.
Do you know why most women and young girls are engaged in marketing? Well, Kumba Willan of The Point newspaper may have answers to that question.
If beauty, being well-structured, fair in complexion, having a unique smile, high fashion and good sense of humor are what makes a good marketer, then there is no doubt that Kumba is the right person for the job.
Kumba is the type that will never go to the bank and come back to the office with an empty bag, because this lady is just the perfect negotiator. Smiling is part of her nature, and it has become her identity. Every outfit, bag, shoes and wigs are appealing on her and her alone.
Punctuality is her style; even though she is married with children, this woman is always the first to arrive at the office. Who said career women can't take care of their homes? To her there is nothing important in this world more than her husband, and she likes praising him, and that is no surprise because Mr Willan takes good care of her.
We wish her luck and hope she continues to bring more money for us in 2016.
They said it takes a bold and brave woman to say "Yes" to a man, and agreed to a bondage that will last for eternity.
Well, Binta A. Bah was the luckiest of the four female court reporters at the High Court when she said "yes I do", to Mr Jambang.
Binta A Bah did her certificate and diploma in Journalism at the Insight Training Centre and joined the Daily News before it was closed down. She is now with The Standard Newspaper.
Every journalist has a specialty, and for Binta she is only in love with court reporting and has covered a lot of high-profile court cases in different court houses in different jurisdictions.
Since Binta said "yes I do", a few months ago, she was missing in the courts and the question her colleagues are asking is: When will Binta return to work?
Well, should we blame her; she is in love! SHE-SHE-SHE is wishing her a happy married life and a successful 2016.
SHE-SHE-SHE Wishes all its Readers a Happy New Year! 
Read Other Articles In Article (Archive)