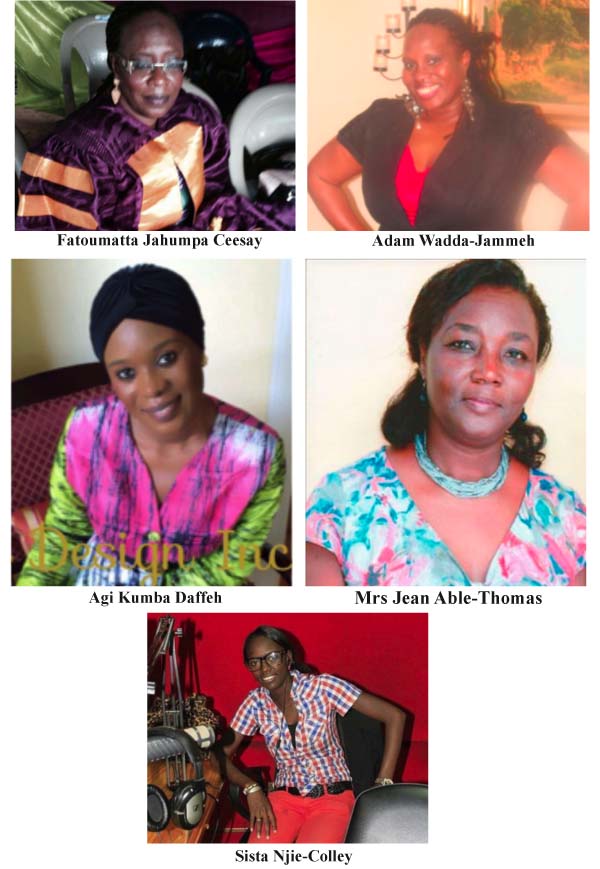 As we are preparing for another year and saying bye to the year 2014, the She-she-she column is bringing to its readers attention some of the outstanding women in The Gambia who have done something positive in 2014.

Since the world came together to acknowledge the fact that women should be empowered, respected and allowed to take part in all development sectors of the world, the women also took it up as a challenge.

Some of them are today making their contribution as lawyers, journalists, judges, magistrates, doctors, nurses, teachers, presidents, vice presidents, ministers, ambassadors, philanthropists, bankers, activists of human rights, mechanics, engineers, business tycoons, farmers, traders and in many other jobs that make the world advance.

In The Gambia, we have women who are ever present and active, and in 2014 made their mark. These women have done something worthy of emulating.

For instance, we have seen women in politics making their voices heard in every way. We have seen women lawyers at the courts winning any case that crosses their path.

We have seen women at the banks as heads. We have also seen women hosting big conferences in the country as host, and we have seen women in the media.

Today we bring you some of those women, to celebrate their hard work in The Gambia.

Fatoumatta Jahumpa Ceesay, commonly known as FJC, did wonders in 2014 not only for herself, but for the entire nation by bringing the WAF Conference 2014 to The Gambia.

FJC is one woman that opens her doors to the young people of this country irrespective of sex, religion, background or nationality; to FJC everyone counts. The WAF Conference was indeed successful in the Gambia thanks to her.

During the course of 2014, FJC has been greeted with international duties from the African Union and other organizations due to her dedication and willingness to take up challenges.

FJC has been nominated as a board member and as the national president of the African Women Foundation for Nation-Building (WINB) The Gambia chapter.

FJC became the busiest Gambian woman in the year 2014, and She-she-she prays for a better year for her in 2015.

Adam Wadda-Jammeh is another woman who young people look up to as a mentor and role model, because of the energy she has to handle such a great position as head of HR at the Standard Chartered Bank and as the President of the famous Rotary Club of Fajara.

Adam is one woman who was busy and committed throughout 2014. We all know that working at the bank is a challenge, talk less of being the Country Head of HR, but with the knowledge that she possesses the job is fun for Adam.

Adam and her Rotary Club sponsored the polio vaccination campaign which was conducted throughout the country targeting children from 0 to 5 years. She-she-she is wishing Adam a fruitful 2015 in advance.

We all know, or have heard of the owner of Tresor the Closet & Beyond, Agi Kumba Daffeh. She is one woman who brings beauty, brains and industriousness in everything she is doing.

Even though I don't know Kumba Daffeh in person, you will all agree with me that she is one Gambian personality that you cannot ignore.

What amazes about Kumba Daffeh is the words of wisdom she posts daily on her Facebook page, so that even when you are not in the mood for face-booking those words will make you to log in.

Did you stop by her place along Kairaba Avenue called "Tresor the Closet & Beyond." You will agree with me that the clothes there are classy in texture, style, colour and taste, and that could be seen in her dress.

Kumba Daffeh is a woman who shined throughout 2014, with her many visits to Mecca; which shows that she is indeed religious and open to everyone.

I bring you one of her postings on Facebook, which is my favorite and it stated: "One of the most empowering and liberating feelings; to be happy for people who have already achieved what you are yearning to achieve or create. This means, you are inspired by their ability, drive, purpose, and hoping that someday you will arrive at your own; yours and yours alone.

"Everyone's path is unique, and you will do it your way.

Keep those beams on what you are trying to accomplish.

If you keep at it, In sha Allah you shall overcome. Allah is always on the side of those who aspire to persevere.

"Just do not focus so much on other people, but rather on your purpose and origination.

Envy is nothing but a lack of belief in oneself. With determination, purpose and effort, see it dissipate."

She-she-she wishes her a fruitful 2015 in advance.

Mrs Jean Able-Thomas, the proprietress of Fajara Skills Development Centre, is another woman who made great achievements in the year 2014 by graduating 16 students from the Centre in various disciplines.

Her impressive track record coupled with her diverse educational background has prepared her to face the challenges of life.

Mrs Jean Able-Thomas, who grew up at No. 3 Hagan Street in Banjul under a strict disciplinarian called Mrs. Rachel Thomas, former secretary to the late Lawyer ML Saho. She attended St. Joseph's primary and secondary schools in Banjul, where she completed her form 5 in 1977.

She proceeded to Auchi Polytechnicin Nigeria to do a two-year basic course in Fine Arts, and after completing the two-year course,she came back home in 1981 to start a business.

Fortunately, she travelled few years later with her husband, Dr. Uriel Able-Thomas to Newcastle Upon Tyne, United Kingdom, where she used the opportunity to learn other skills such as hairdressing, beauty therapy, management and finally, adult education at Durham University.

Mrs Thomas is the woman behind the success of those ladies who were not opportune to proceed to Grade 10, but were able to learn life skills at the Fajara Skills Development Centre to help them in the future.

Ya Sally Njie-Colley, also Known as Sista, is another woman who turned a decade old in the media in 2014, and is a role model to young women aspiring to work in radio stations.

Sista Njie is one personality that made a name for herself in the Gambian music industry, with her famous 'Wah Sah Halat' show on Capital FM.

Sista is one success story in the media who has benefited a lot from the media. Sista is also dedicated to what she does; as such she does it well. She-she-she is wishing her a fruitful 2015 in advance, and a happy married life as the newest celebrity couple of the year 2014.

Women with success stories in the year 2014 can be found in every development sector throughout the country and we, therefore, wish them all a Happy Christmas and a fruitful New Year in advance. 



Read Other Articles In Article (Archive)