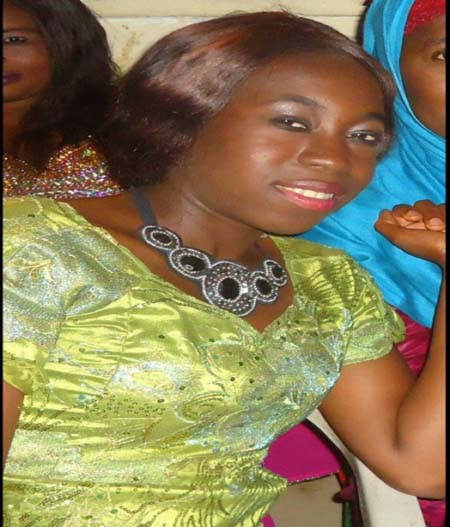 Innalillahi Wa Inna illaihi Rajioon, from Allah we came and unto Allah we shall return but the most painful part of our returning to the creator is the fact that we don't know when.
The year 2016 is no doubt a bad beginning for the young journalist like me and particularly my colleagues at Daily Observer Newspaper.
February 12 was a busy day just like any other busy day for young journalist like myself who are the movers and shakers of the newsrooms in our respective media houses.
Closing from work in the evening of 12 February, feeling tired and sleepy I could wish for nothing more than a peaceful and a great night rest that would take me through the morning.
But just some minutes to midnight, I received a text message from a former Daily Observer reporter Kaddijatou Sowe, and before I could read the message, she called me and I picked the call and suddenly I heard her crying and she broke the news to me, saying Oumie Jobe had just passed away.
At that very moment the name Oumie Jobe became alien to me and I acted like I did not know the Oumie Jobe she was talking about.
I asked to know what happened to Oumie and she said to me, Oumie had been sick for a month now. It took me the whole night debating, crying and trying to convince myself that Oumie Jobe has truly gone.
My first encounter with Oumie was at the Brikama Magistrates' Court where I cover court proceedings for The Point newspaper.
Oumie's presence at the Brikama Magistrates' Court was never regrettable because she was the type that hardly remained silent for a minute, as she would always be oozing with beautiful smiles.
Whenever I met with Oumie in the field, it would never be boring; she was just the perfect lady for the job. Oumie was always close to those of us who have been in the media before her and was as well ready to learn.
For her, it did not matter which media house you are reporting for; what was important to her was the fact that you are a pen pusher like her.
Oumie did not know how to be impolite to anyone regardless of your age. To Oumie, everyone is equal and everyone matters. All she needed was someone to chat with and share her dreams with as a pen pusher.
Oumie was a harmless soul, who was polite, humble and down to earth. She was always ready and determined when it comes to gathering news.
Oumie was not the type that would choose places when it comes to gathering news. Her concern always was nothing but to get news. Loneliness was never her life style, as she always loved seeing people around her all the time.
Allah (SWT) is in control and when one's time is up there is never a room for negotiation, begging or extension of lifespan.
I woke up the next day, I received calls again from her colleagues telling me that the burial would be held after Jummah Prayers, and then I said to myself "it is time to face reality: that Oumie is gone".
It is time for me to accept that when next I go to the court house Oumie would not be there to chat with me and keep my company. I have to face the fact that whenever I go to the Daily Observer I would meet everyone there except Oumie.
The reality is that Oumie had been laid to rest. She like many before her had answered to the Creator's call. When I entered Oumie's compound I said to myself 'this was not what I planned, it was never my intention to go to Oumie's compound in tears with my head down and my body infected with coldness'.
I looked at the young female journalists sitting down, shedding tears and trying to convince themselves that Oumie had gone and would never come back.
If the amount of tears shed could bring someone dead back to life again, Oumie would have been brought back to life.
If death was negotiable, we would have negotiated it out on behalf of Oumie, for her to be back with us; even if it was going to take us the rest of our lives.
Like every young hard working female journalist, Oumie also dreamed of a media where young people like us who are so much in love with the pen and would jump from the courthouse to the football field in search of news, would be valued and given their worth. Oumie was just simply hard working.
Oumie, death is the only thing that could separate you and us. The most painful part of it is that when one died, he or she never returned; that is why I could only imagine what the grave looks like and how it is to be placed in one place alone with no one to chat with, smile to and consoled you when we would do anything to keep you company, Oumie, and have you by our side.
For a beautiful soul like you, may Allah send his beautiful angels to keep you rest in peace always.
Oumie Jobe, why don't you stay with us a bit longer? Why don't you take just a minute of the time you are left with to say goodbye to us? Why did you fool us into believing that we would be given an opportunity to grace that special day in your life when you would say: "Yes I do" to that special man in your life?
You deceived us with that humble personality nature of yours and never gave us the chance to be by your side while you were preparing to meet the Creator.
Oumie, do you want us to celebrate Press Freedom Day 2016 without your gentle presence in our midst. What are we going to do when Facebook sends us a notification that "today is Oumie's Birthday? When will you break the silence again by answering us when we write on your timeline?
When will this pain of missing you and not having you around end in our hearts? Oumie, what or who do you want us to replace you with? Oumie, will you ever respond to us when we tag you on facebook? Why do you choose to leave us in such a state? Oumie whether you know it or feel it your silence is killing us?
Oumie, hundreds of thousands of people have died and are gone and forgotten but please don't ever for once think that we are going to forget you.
We cannot forget you even, if we want to, because anytime we work into any courthouse, your image would appear in front of us. Anytime we go to the field in search of stories your image would appear again.
Oumie anytime the Daily Observer Ladies enter the office premises your spot, smile and that beautiful face of yours would still be there in front of them. Talk to us, Oumie, how do you think we would cope with this pain.
We have cried and run out of tears, but again who are we to question what Allah does because Allah does what is best for us. As I am writing this tribute for you Oumie my laptop keyboard is covered with tears and we would have done anything to have you back but since no amount of tears could bring you back to life, we pray for Allah to grant you Janatul Firdaws. You are at the best place, so rest in peace and be free from this vale of tears.
We shall always remember you in our prayers. As we mourn you, we pray to Allah to guide us all to the straight path till we meet again. We will continue to hold onto the pen with passion just like you.
Our lives are filled with so much grief and emptiness because a week without Oumie Jobe is more frustrating than a week without food.
Rest in Peace, Oumie Jobe!
Read Other Articles In Article (Archive)