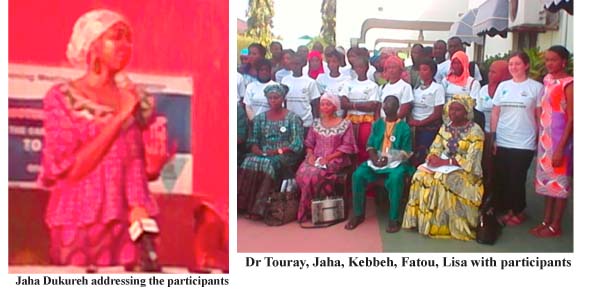 As the battle to end FGM is still getting stronger, Safe Hands for Girls recently gathered young people from different organisations to see how best they could join a stronger force in ending FGM in The Gambia, at a meeting held at the Paradise Suites Hotel.
Safe Hands for Girls (SHFC), is a non-profit organisation dedicated to helping women and girls attain their human rights, with the main focus on women and girls that have gone through FGM or are at the risk of going through the practice.
The aim of the meeting was to bring together youth organisations active in the fight against FGM, to discuss the challenges they face as youth organisations working in the campaign, and to make recommendations on how youth organisations in The Gambia could work together in the anti-FGM campaign.
FGM US-based Gambian activist, Jaha Dukureh, who is also the CEO of Safe Hands for Girls, said it was always an honoured for her to join the young people in contributing her quota in the fight against FGM.
"FGM is our fight as well, and I believe that as young people it is our moral obligation; and I am glad that we have the support of the Gambian government," she said.
"I strongly believe that we cannot fight FGM alone; so it is good to have a government representative who is here to listen to us and to show us that they are with us," she added.
Dr. Isatou Touray of GAMCOTRAP, a pioneer NGO that started the FGM struggle three decades ago, was also at the gathering and renewed her call for an end to FGM.
Seeing young people stepping in their toes gives her nothing but joy, she said.
She delivered an encouraging speech for the young people in the campaign: "Every society has its own traditions and culture and FGM is one of the many traditions that are deeply rooted in the Gambian society."
"It cuts across gender, class, religion, social and economic boundary in our social stratifications", she said.
"However, sustained advocacy and social mobilization around female genital mutilation have created awareness, resulting to changes taking place in our communities," she added.
They are increasingly witnessing young people taking a more vocal and active stand towards the campaign against FGM, and this gathering was evidence of those efforts, she said, adding that with over 1.2 billion people globally, youths account for a significant proportion of the world's population.
"The campaign against FGM has been going on for over three decades now, at a time when most of you were not yet born or may be too young to understand what is happening around.
"This occasion gives me hope that all is not lost, as the work of GAMCOTRAP and other organisations engaged in the advocacy to end FGM is yielding fruitful results.
"It has been a long and very difficult journey for activist engaged in fighting against a deep-rooted tradition that seems to be the norm in a given social context.
"Today has confirmed to me that nothing is impossible to achieve, if you give it the right attention it deserves," she declared.
Dr Touray thanked Safe Hands for Girls, whose objective is to protect the rights of children, among other things, for taking a bold step to engage in a debate that affect them, despite the controversy.
"The founder of this organization is a young woman who was a victim of early marriage and FGM, and had to grow in a context different from her cultural environment.
"Her exposure and awareness led her to refute the age-old tradition, and she took leadership to engage with other parties to end the practice.
"I am not surprised that the 16-year-old activist, Jaha Dukureh, who stood to protect her sister from FGM at an older age, came back to The Gambia with the Guardian newspaper to contribute her quota in the fight against FGM, as a sign of good leadership," she said.
What was happening today was what happened three decades ago, when young people like herself were exposed to the effects of FGM and early marriage, and decided that it would no longer be an underground campaign, but a development issue that the state has to take responsibility for and to engage the population, she went on.
"To end FGM, I started as a young mother with three girls out of four children to protect my daughters from FGM," she said.
"I want to put it to all of you that you are all agents of change, and makers who can and should be able to change your circumstances. The huddles to this fight have been minimized, and I want to assure you that you can do that."
Fatou Kinteh, is national programme officer for United Nations Population Fund (UNFPA), a UN agency that wants a world where every pregnancy is wanted, every child birth is safe and every young person's potential fulfilled as well as bringing sexual and reproductive health rights to the door step of every Gambian particularly women, girls and adolescent youths.
She said at the forum: "It used to be a 'taboo' to talk about FGM; however, due to the sensitisation, consultation and training conducted by GAMCOTRAP, other NGOs and human rights organisations with support from the UN agencies, more and more people are becoming concerned and silence is being broken."
FGM/C has now become a household word, as it is discussed openly in many forums, she added.
There is increased awareness on the health and reproductive health complications, as well as the human rights violation caused by FGM, leading to communities making pronouncements to abandon the practice.
The UN System is committed to promoting and protecting human rights, including the rights of young people, especially adolescent girls, she continued.
Read Other Articles In Article (Archive)