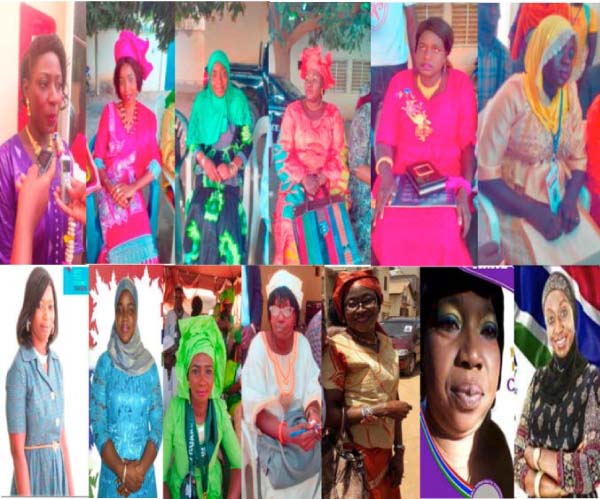 The April 6 National Assembly Election has been, no doubt, a competitive one between women and men, young and old, all aspiring to win a seat either as a political party or an independent candidate.

Well, it looks like the "Not too young to run" campaign for young people to take part, had gained momentum and women candidates were not left out either.
The SHE-SHE-SHE columnist met with some of them during their nomination, whilst others were met during the one-day training course organised by the "Not too young to run" initiative headed by Activista.
These women candidates, bold and confident, are all going through thick and thin against all manner of discrimination faced during primaries they won to contest the National Assembly election.
Some of them have won primaries, but at the end they were dropped and have to cross carpet to other political parties or stand as Independents, just to prove to the world that Gambian women are no longer interested in being compensated with positions, but instead they want to go neck and neck with their male counterparts and earn it at any cost.
So, as you read along, forget about their gender a bit; don't look out for their beauty, but what they represent, and what they want you to see is their passion, potential, intelligence and the boldness that runs through their veins.
They are hungry for laws to be gender-sensitive and inclusive. Most importantly, they are citizens of this country exercising their constitutional right to vote and be voted for.
Mam Jeng of Jeshwang constituency under a PPP ticket, said it is very important for a woman to stand as a candidate, so that she can work with her fellow women and youths to influence laws that will be women- and youth-friendly.
She said when elected, she will work with the government, her constituency and her party leader.
Aminata Correa, for Latrikunda Sabiji constituency also under a PPP ticket, said she wants to represent her people in the house of parliament, and hopes that they will be able to reform the country and its laws in order to promote real democracy.
Her constituency is under-developed, and she is hoping that she will be able to lobby funds to develop the area.
It is always good to connect with your people, she added, and that they went around the market to talk to the people and to listen to some of their concerns.
Women should be empowered, because they are very important in the society and also for the fact that God created both men and women, Ms Correa continued.
Solvieg Jeng, for Serrekunda West constituency under a PPP ticket, said as a woman she thinks women have to come out of the darkness; and for the fact that women suffered so much in the past 22 years is the reason why she came out to contest the National Assembly election to represent the voices of women in the parliament.
She said she is here for all women and the youths.
Amie Sillah, contesting under the PDOIS ticket for Bundungka Kunda, said her main priority is to be a true representative of the people, be their eyes, ears, mouth, and everything.
She said she is going to be non-partisan, and since she is an activist, she is going to need more women to be in, and wants to be a role model and mentor so that more women can come in.
"When I am elected, I will ensure what the coalition promised, which is the reforms and the voter system, so that we can have more women and then proportional representation."
Kaddijatou Jabbie for Basse constituency, under the Independent ticket, said that her main priorities are women and youth empowerment.
She said they are not politicians; they are youths who want to be responsible, and they want to see their constituency developed, take part in developing it and to see it develop to another level.
Basse is said to be the second capital city of The Gambia, but if you look right now at the way it is, you cannot compare it to any other place in the country, she said.
Asked how she feels contesting against Muhammed Magassy and Sumpo Ceesay, she said they are young people and they comprise the greater part of the population; and they know what they can do, because they have done it for Magassy the last time; so now it is their time.
She said they are non-partisan, and their agenda is to develop their constituency and make life inclusive for both men and women, including the young.
They are 100% hopeful that women and their fathers and brothers will certainly answer to their call to vote for them.
She added that the one-day workshop organised for them by the "Not too young to run" initiative headed by Activista is very essential, because they are not politicians, but young people who want to contribute their quota to the development of their constituencies and the country.
She said the training session had enlightened them by giving them the strategies and ways they can campaign, and convince the electorate to vote for them and, most importantly, ways that they can overcome other contestants.
Mariama Saine, for Sanneh Mentereng constituency under the NRP ticket, said her inspiration to contest came the very moment the political unrest happened.
She knew, as part of the activities she does for a living as a human rights activist, and also a youth leader, that politics was something she could not stay away from, because it is where she drives the ingredients for her work.
But then to be inspired and actually stand up, came as a result of the political impasse, she added.
Judging by some of the decisions taken by the members of the National Assembly then, and the impact that it had on the population, especially the women and children who fled the country; it was then she just decided that she has to be there at the parliament to avoid such things from happening again.
Ms Saine further stated that being there means taking the right decisions; as she believes if that was happening, then the country would not have experienced what happened.
"As a contestant, I never think I was going to have an easy ride; and to me it is a challenge that I embraced very well, because when you don't have people of the same level or presumed to be above you, you can't really test your weight. I have five men contesting against me and, as the only woman, I am proud. For the competition, I am not even bothered about it because I expected it."
She added that the "Not too young to run" workshop is interesting and it will equip her with the much-needed knowledge to be able to stand out; "because the challenge is not people coming to you asking you to back out, but if they come to me and asked me to back out, that is the time I will buckle up to do more."
The rest of the women contesting in the 2017 National Assembly election are Kumba Barry for Bakau constituency and APRC; Amie Colley GDC Tallingding; Kaddijatou M. Samateh Latrikunda Sabiji; Haddijatou Forbes GDC Banjul Central; Fatoumatta Jawara UDP Tallingding; Fatou Njai-Batchilly Banjul South PPP; Fatoumatta Hydara Bundungka Kunda PDOIS; Awa Bah Kombo South NRP; Haddy Bah Kiang Central GDC; Fatou Jai Ceesay Niamina East PDOIS; and Amie F. Sowe Wulli East GDC.
For the women contestants send us your manifestos and campaign schedule at shesheshecolumn@gmail.com or call 2152629.
SHE-SHE-SHE wishes you all good luck.
Read Other Articles In Article (Archive)