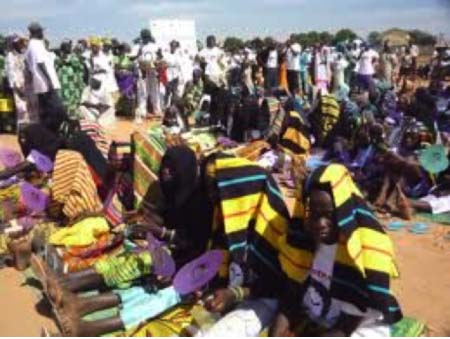 It was early morning after men are returning from the mosque for Fajr prayers, and the morning was very cold as usual.
Lying on my bed alone I tried to wrap myself up in a blanket to drive away the cold. The environment was quiet and peaceful. Then, suddenly, I heard footsteps and the child, my sister's daughter that I was sleeping with on the same bed being smuggled away by an old woman.
I woke up and followed the woman to see where she was taking her to.
As I reached the sitting room, I saw five children all girls between the ages of 8 and 10 seated on the laps of their mothers, waiting to be taken away to the "Ngansingbaa" (circumciser) to cut them, mutilate or sealed them up.
The children were each handed with sweets, biscuits and pampered like those that are celebrating their birthdays.
I began to ask their mother, where they were taking their children to.
"Are you blind or you are asking for the sake of asking. Because you know that the "Ngansingbaa", Amie Jallow, is around. We are taking the children to her for them to be circumcised. Because they are all "Solimas", the mother of one the children responded.
"These are children, they are babies, and they do not even know where you are taking them.
"Look at them; you disturbed their sleep this early and peaceful morning, and as well lied to them that you are taking them somewhere; that they are going to be given heaven and earth.
"You pampered them with lots of gifts. Yet you break your promises; you break their heart and cut them, mutilate and sealed them against their will."
I said this to the mothers, but they hissed at me, put their children in a car and took them to the "Ngansinbaa" in Lamin.
Tears started running down my cheek, and I remembered 20 years ago when I was almost the same age as these children that were taken away and cut by their mothers. The same thing happened to me.
It was around the cold season, and one evening I saw my grandmothers. Three of them with their bags came to my home in the name of a holiday.
My grandmother was also my namesake, and seeing her in my house brought nothing but joy to me and the rest of the children.
My grandmother stayed with us for a long time. Then one early morning, we welcomed a woman. She is not a very old woman, but this woman looked like a very important person to us, because she was greeted and welcomed with much respect by everyone in the house.
Her name was Sona, a famous "Ngansingbaa" living in Dippa Kunda.
My grandmother woke us up early in the morning, and we were more than ten in number. I was the youngest, and we were adorned with so much beautiful beads and traditional wrappers. It looked like they were celebrating our births in this world. However, they were indeed celebrating because they were going to cut us against our will.
My grandmother held me up on her shoulder and paraded me in front of everyone in our compound, as if I was a trophy won through a game.
Finally, she took me behind the toilet and gave me to Sona, the "Ngansinbaa". When she held out the razor blade, and I struggled to go free, my grandmother and two other women held me tight on the ground. My legs were spread widely open and this woman without shaking a bit, or being emotional as to the fact that I was a child, and she a mother, cut me. I could feel the "razor blade" clearing my clitoris, and all I could see was blood oozing out of me.
As a child, it was confusing and generated in my mind lots of questions that I myself did not understand. Questions such as - why and how could my grandmother, who was just hours ago pampering me with so much love and parading me in front of people like a priceless jewel, give me to a woman who is a stranger to me, to cut me up just like that?
She cut me without asking for my consent; she cut me without caring about how I feel; and I was lied to when they cut me!
Since the advent of this culture or practice by our people, millions of girls worldwide have been survivors of FGM.
Millions of girls mostly children have been heartbroken, due to the fact that they have been lied to when they were taken away by their mothers to be cut.
Millions of girls have been suffering in silence with the health consequences of FGM.
FGM activist Jaha Dukureh said due to the consequences of FGM, her sex life has been a nightmare to her, unlike those that have not been cut.
Another FGM survivor has been in been shock for more than five days because she was cut and sealed without her knowledge or that of her mother.
The survivor told me that when she was given away to her husband, that was the time she found out that she was sealed by the circumciser and was taken back to the same circumciser to unseal her again - which resulted in shock.
However, a popular "Ngansingbaa" has said that this is culture and is based on religion, and those talking against it don't know what is involved, because if they knew they will not be making noise over nothing.
The interesting part of all this is that the "Ngansingbaas" will not tell the young what is involved in performing FGM, that makes it so hard for them to drop the knife and hold on to something else.
The question that many ask is: "Is the fame, fun and money involved in the practice that is making it impossible for the circumcisers to drop the knife, and hold on to something else?"
The circumcisers are still quiet on that.
The religious leaders, on the other hand, are also insisting that it is a religious practice, while some of the health practitioners are also silent on the health consequences of FGM.
The women and the mothers are saying that they have undergone FGM since time immemorial, but have never come across a woman or women suffering from reproductive health issues relating to FGM.
Some have even said that the activists are cooking stories that never existed.
Many have dropped the knife, but there are powerful ones that still holding on to the knife and are unshakable.
Some even say that it should be a law in The Gambia, that anyone who talks of the banning of FGM be taken to court and prosecuted.
Whatever the case may be, there is need for dialogue between all the relevant stakeholders in FGM, to discuss the menace and look for ways and means of having a common ground in the best interest of the children, especially the girl-child.
Listen to the stories of the survivors. Nine in every ten girls are survivors of FGM, and they have a story to tell and their story, though not pleasant, is worth listening to. 
Read Other Articles In Article (Archive)